Jurassic World: Dominion Dominates Fandom Wikis - The Loop
Play Sound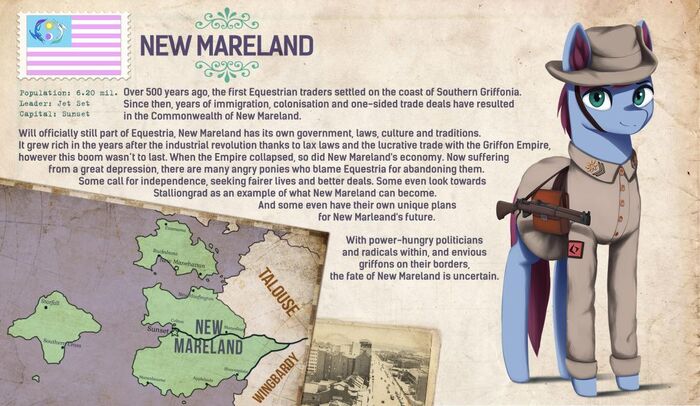 Lore
[
]
Foundation and Growth
[
]
In 649 ALB, the first Equestrian traders, led by Coltlumbus, settled on the coast of Southern Griffonia and founded the colony of Celestia. Since then, years of immigration, colonisation and one-sided trade deals have resulted in the Commonwealth of New Mareland, a beacon of

 Equestria on Griffonian shores.
While nominally still part of Equestria, New Mareland has its own government in the Commonwealth Congress and is subject to its own laws and regulations. The lax regulations in industry and employment laws, along with the valuable griffon market, lead to many Equestrian businesses setting up in New Mareland.
Black Wednesday
[
]
The New Mareland economy boomed, filled with ponies of adventure and drive, shaking off the Harmonic stagnation that plagued their sedate motherland. Even the collapse of the

 Griffonian Empire in 979, which plunged New Mareland into a recession, didn't stop their determination. Inspired by the battles of their troops against the exotic wildlife and challenges faced in a strange land, the ponies of New Mareland began to take pride in the New Mareland spirit, a unique blend of humour, optimism and stubbornness in face of adversity.
Traders turned away from Griffons towards Equestrian business, and speculative investors bought big in the hope of big payoffs in expanding exploitation of the unique potential of Griffonia on Equestria's behalf. However, it soon became obvious that Equestrian trade policy was turning inwards instead. On the 29th October 999, the New Manehattan stock market crashed. In what has become known as Black Wednesday, thousands of New Marelanders suddenly found themselves without a job and the nation's economy fell into turmoil. Many citizens turned to Equestria for help, but the homeland did little to help alleviate their problems, instead chiding them for their lack of regulations and carelessness.
A New Future
[
]
Many New Marelanders, now feeling abandoned by Princess Celestia, have begun campaigning for the Commonwealth to seek full independence. This is championed by several charismatic ponies such as Gladmane, Kingfisher and Duke Haygle. However, the newly appointed Governor-General Jet Set still maintains a solid power base in the Commonwelth Congress with popular support among the ponies of New Mareland.
With support from Equestria, he has his own plans to fix the nation and maintain the status quo. The imminent issue New Mareland has to tackle is the economic depression. While many have their own ideas on how New Mareland should recover, some are more extreme than the others.
Clouds of War
[
]
New Mareland is also a peaceful nation. If faced by a war the population will need to be rallied behind the cause, there is also a sizable griffon minority in the nation who will fiercely reject any idea of fighting in a "pony's" war.
However, New Mareland starts with a strong industrial base, particularly in its aviation industry. A strong Air Force, combined with a well dug in army, will be key in New Mareland's defence. The ponies of New Mareland find themselves in a crisis, and are surrounded by evil-minded nations in this foreign land.
Will they hold firm and survive? Or will these be the last years of New Mareland in its long history?
Starting Situation
[
]
New Mareland starts with a very small military force - 31k deployed ponies, and only 35k ponypower spare. New Mareland cannot get additional ponypower for a long time. It also has a token airforce of 24 early fighters and a functional fleet of 9 ships, including 2 heavy cruisers, 2 light cruisers and 5 destroyers
Threats and Opportunities
[
]
 Kingdom of Wingbardy:

The Kingdom of Wingbardy is one of independent New Mareland's main opponents in its expansion focuses. Wingbardy is a strong regional power and the head of the Karthinian Pact faction, meaning that any war between New Mareland and Wingbardy will be a challenge.
Supremacist Wingbardy's Demand New Mareland and Communist Wingbardy's Divide New Mareland will both provoke a conflict between Wingbardy and New Mareland. However, the latter scenario is quite rare, as it requires Aquileia to also be Communist and Communist Wingbardy to have chose to join them instead of joining Prywhen or seeking their own path.

 Griffonian Empire: The continental power of Griffonia, the Griffonian Empire will sooner or later launch a continental conquest across almost all of Griffonia. While a non-expansionist New Mareland is spared from this continental conquest, an expansionist independent New Mareland might conflict with the Griffonian Empire.
 Changeling Lands: Despite being an entire ocean and a continent away, loyalist New Mareland will be obligated to join the Great War between Equestria and the Changelings when it breaks out. Should Equestria fall to the Changelings, loyalist New Mareland will host the Equestrian government-in-exile, and bestowed with the duty of liberating and restoring Equestria.
Gameplay
[
]
Decisions
[
]
Public Works Projects
[
]
Loyalist, Jet Set, and Gladmane routes will all enable public works projects. These offer several special projects that take a large time to complete, but ultimately provide long term industrial bonuses.
Hydroelectric Dam: -3% Consumer Goods, +10% Resource Gain Efficiency, +200 PP
Shopping Mall: -5% Consumer Goods, +2.00% Weekly Stability for 185 days, +200 PP
Nuclear Power Station: -10% Nuclear Research time, +10% Military Factory and Dockyard Output, +25% Nuclear Reactor construction speed, 2x 50 % Research Bonus for Nuclear technology, +200 PP
Mining Projects
[
]
Gladmane and Kingfisher paths will unlock new mining projects, providing the following resources:
National Focuses
[
]
New Mareland is a land of opportunity, depending on how the player wishes to handle their relations with their master, Equestria.
Remaining loyal gives you large bonuses to industry and research, and even gaining the possibility to act as the asylum for the Equestrian government should the homeland fall to invaders. Taking Patriation allows New Mareland to become a nation on its own, ready to take on the world on its own.
However before New Mareland can become a respectable nation, it must deal with the Great Depression and sort out the Griffon minority issues. New Mareland cannot field a proper military until war occurs, due to its blocks on conscription laws.
Loyalist Path
[
]
The loyalist path is in many ways the safest for New Mareland - maintaining Equestrian military protection, using Equestrian research bonuses and offering a shorter tree with some focuses that grant quick factories, it can be completed earlier than other trees, offering faster escape from the great depression.
Notable focuses include:
The Royal Visit, giving a choice of visit from 4 different princesses, who can give 5k manpower, two 50% bonuses for racial tech, 75PP or +5% stability.
The New Mareland School of Friendship and The New Mareland School for Gifted Unicorns both provide a research slot, offering a choice between relations bonuses for trading with Griffon nations, or racial bonuses to magical research.
Transoceanic Support and Wonderbolts From Across the Sea, which provide the strongest bonuses to aircraft in the game, and Moondancer, a theorist with good research, magical and nuclear bonuses.
Partners, not Puppets removes national spirit Equestrian Overlord.
Government in Exile
[
]
Should Equestria be defeated, a loyal New Mareland will have the option to take in the Equestrian Government-in-Exile. This will grant Celestia and Luna as figureheads, providing massive stability, and Equestrian advisors if you had not already unlocked them.
This focus tree is extremely powerful, but is not necessarily enough to defeat whoever beat Equestria.
These focuses grant massive boosts to stability and war support. They add resistance ideas to whoever owns Equestria, making their life more difficult whilst at war. They equip you with a set of dockyards and some heavy ship techs.
But most importantly, this focus calls upon the Magic of Friendship. Every neutral or Harmonic Government on Equestria, and the River Coalition, will join your faction, the Coalition of the Free. You will also receive elite hippogriff units.
Pray it is enough to retake Equestria.
Independence
[
]
Choosing the independent route starts a period of political campaigning, allowing the player to build support for their ideology of choice, depending if you take Let All Have a Say. Possible candidates are:
Jet Set (Harmony)
[
]
Jet Set, former Governor-General of New Mareland, will remain true to Equestrian ideals of harmony should he win the election, opening charities and solving New Mareland's economic problems, but not quite to the level of Kingfisher's radical ideas of wealth redistribution. This path also offers New Mareland a choice between allying with Aquileia or the River Coalition.
It is most notable for its +15% bonus to construction speed, diplomatic options, and bonuses to trade with other nations.
Gladmane (Non-Aligned)
[
]
Notable businesspony Gladmane offers a way to make New Mareland Great Again, by fortifying the borders and opening the banks to Griffon gold, giving them safety from any invaders. This branch notably gives good civilian factories, unlocks mining decisions, and dramatically reduces consumer goods. It also prevents joining other factions via the Neutrality effect. This path does not give a research slot.
Open Up Our Banks - Every industrially powerful (>14 factories) country that is in Griffonia and not Communist will receive the event to store money with New Mareland. This will grant -2% in consumer goods for both countries. For every country that accepts, New Mareland will receive an additional -2% up to -15%.
Kingfisher (Non-Aligned)
[
]
Popular governor of the state of Celestia, Kingfisher, promises to enact reforms that will make Every Pony a Princess and break up the corporate monopolies. This branch gives a lot of civilian factories and infrastructure, as well as boosts to stability. It can also access the mining decisions and foreign policy focuses.
In terms of foreign policy, Kingfisher can seek to join the Concordat of Free Nations led by the

 Republic of Asterion. Kingfisher can get war goals on Communist countries in Southern Griffonia and the

 Kingdom of Wingbardy. Kingfisher can get cores on North Scarlet, South Scarlet, Jojo Islands (default owner is

 Sicameon) and Wrobert (default owner is Wingbardy).
Duke Haygle (Supremacy)
[
]
Duke Haygle believes in a firmer way of dealing with the aggressive Griffon neighbors, offering a quick buildup of the nation's armed forces and industry in preparation of war.
This tree is notable most for its construction speed effects - 10% from focuses and more from BNPL bills. Its research slot focus also offers -10% research time and its military focuses give a very large 25% bonus to max planning.
Build Now: Pay Later - These bills will give a large 25% boost to construction speed and -5% to consumer goods, but will consume PP whilst active. The effect can be extended, but each time they will consume more and more political power. If not enough political power is available, the effect will end and 20PP will be charged per extension. Declaring war or having war declared on will remove the BNPL bills and the obligation to pay them back. Civil wars do not trigger this effect.
In terms of foreign policy, Duke Haygle can choose to join the Karthinian Pact if the

 Kingdom of Wingbardy is Fascist, or he can choose to form his own faction, The Silver Crescent. Duke Haygle can get war goals on Communist countries in Southern Griffonia, the

 Kingdom of Wingbardy, and the

 Duchy of Talouse. Duke Haygle can get cores on North Scarlet, South Scarlet, Jojo Islands, and Wrobert.
Duke Haygle can also take The South-Griffonian Free Trade Zone, which economically exploits New Mareland's subject states.
Picket Fence (Supremacy)
[
]
Picket Fence is a protector of the little pone. The common worker. With regulation and by taking the bankers down a peg shall New Marelands Economy prosper! By enshrining democracy shall they remain free! And by having separate but equal segregation for ponies and griffions shall their society remaining peaceable and proper!
This path focuses on economic recovery, decentralization of democracy to the little pone and, you guessed it, segregation! You will decrease the penalties of the Great Depression like any other path, receive free civilian and military factories, 1 infrastructure in every state, an extra research slot, buffs to daily politcal power gain, stability and war support, daily supremacy support, production efficiency growth and a recruitable population bonus.
Of course, all that comes at the cost of your recruitable population factor when you institute separate (but equal!) communities for Griffions and Ponies. You can cripple your ponypower pool further by deciding bats shouldn't be around either, but if you can tolerate the leathery winged monsters, you'll get bonus recruitable population factor, monthly population growth and a hit to stability. Deciding to ship them home where they belong essentially does the opposite.
In terms of foreign policy, Picket Fence's foreign policy is identical to Duke Haygle's, but he will not ally with the

 Kingdom of Wingbardy and will always form his own faction.
Lufty Star (Communist)
[
]
The Communist path may take Mareland in an unusual direction and allows the player to join a Communist faction, or create one. An event will pop up where the player can resolve debates about the direction of the Communist party, and how they shall lead New Mareland.
After this is done, the player can progress down the focus tree. The tree focuses on getting rid of the Great Depression debuff along with integrating various racial groups including the griffion minorities and thesterals. Overall, this tree gives some decent buffs, including free civilian and military factories, recruitable population bonuses, recruitable population factor bonuses, turns the Griffion Minorities debuff into a powerful buff, an extra operative slot for your Intel Agency, an extra research slot, political power gain bonuses, stability and war support, decrease to war justification time, war stability modifiers, and extra building slots in all your states.
Taking the focus The Vanguard of the Griffionian Revolution unlocks two decisions that lets New Mareland join a faction:
Unite With the Griffion Workers: New Mareland will ally with a Griffon Communist faction. The possible options are  Aquileia,  Wingbardy, or  Prywhen, assuming they are communist (and in the case of Prywhen, have won their civil war). New Mareland can only ally with one faction; Wingbardy is generally the optimal choice since they have a starting faction the others can join.
United Ponies' International: New Mareland will ally with  Stalliongrad.
In terms of expansion, Communist New Mareland can get war goals on the

 Kingdom of Wingbardy and the

 Duchy of Talouse, and cores on North Scarlet, South Scarlet, Jojo Islands, and Wrobert.
Industrial Tree
[
]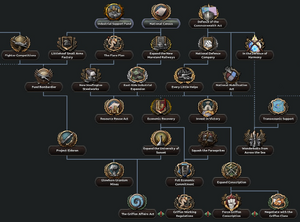 The industrial tree is essential to New Mareland, as it will unlock new Conscription and Economy Laws. New Mareland is locked to Volunteer Only and Partial Economic Mobilization.
Industrial Support Fund and National Census paths contain a series of basic industrial focuses with new factories, infrastructure and research bonsues. Most importantly, it is one prerequisite for Economic Recovery, which will remove the Great Depression and unlock Full Economic Commitment, which will allow full change of economic laws.
Defense of the Commonwealth Act is a critical focus that locks the right third of the industrial tree. It is only unlocked if New Mareland is at war, world tension is over 20%, or if the Fascists or MARESOC have taken control. Under this side of the industrial tree is the focus National Mobilization Act, which will unlocks conscription laws; it requires New Mareland to be at war or no longer harmonic.
Griffon Minorities
New Mareland has 4 focuses in the industry tree to deal with the Griffon problem. Only 2 can be taken, and the adjacent focuses cannot be taken. Some of these focuses will be unavailable in certain political paths, as the Griffon issue is also addressed by some political focuses in these paths.
Griffon Affairs Act: Grants several building slots. It can be taken earlier than other focuses due to not needing the National Mobilisation Act. Arguably these are the worst bonuses in exchange.
Griffon Working Regulations: Further improves the Invest in Victory national spirit, for a respectable 5% production output, -2% consumer goods and +5% resource gain efficiency. Only available in certain political paths.
Force Griffon Conscription: Removes the Griffon Minorities national spirit, but angers the griffons. Griffon bandits will begin a series of raids on your factories. Only available in certain political paths.
Negotiate with the Griffon Clans: Modifies the Griffon Minorities national spirit by partially reducing the conscription malus. Unlike Force Griffon Conscription, this will not upset the griffons. Only available in certain political paths.
Secret Paths
[
]
Please see Commonwealth of New Mareland Secrets for more information
Politics
[
]
National Spirits
[
]
Great Depression

Consumer Goods Factories: 20.0%
Stability: -10.00%
Factory Output: -25.00%
Dockyard Output: -25.00%

With the fall of the old Griffonian Empire, the economy of most nations on Griffonia was hit hard. New Mareland suffered especially, mostly because of investors and businessponies selling most of their shares in New Marelander companies and assets on a single day, causing the economy to crash.

Griffon Minorities

Recruitable Population Factor: -25%

There are many Griffon minorities all over New Mareland, some of them immigrants, some of them natives. This has caused some issues, as many view their presence as...disruptive.

Equestrian Overlord

Daily Political Power Gain: -0.50
War Support: -10.00%
Research Speed: -15.00%

The Commonwealth of New Mareland might be divided from Equestria by a long stretch of sea, but they still exert considerable influences on our politics and industrial development. Their decisions are not always in the best interest of our nation, and a loud minority of our citizens have expressed the need for this situation to change, preferably for the better.
Leaders
[
]
Leader
Party
Description
Traits

Jet Set




Harmony

---

United Equestrian Party

Member of the Canterlot elite, Jet Set is staunchly devoted to the ideals of tradition and harmony. Although his detractors call him out of touch with the common ponies, his business sense is impeccable and he has the right idea of how to get New Mareland back on track. His decision to accept the Princess' invitation to the position of Governor-General came from the desire to show his peers that he is more than a shallow socialite, although his beloved wife, Upper Crust, may have encouraged him. Jet Set firmly believes in the motto of "Keep calm and carry on!" and tries to steer New Mareland into a brighter future, no matter the situation.
Staunch Constitutionalist

Ideology Drift Defense: +50%

Lufty Star




Communist

---

Communist Party of New Mareland

Hailing from an average middle class family that has resided all their lives in Sunset, Lufty Star became attracted to the nascent communist ideology when she was introduced to it in a college lecture. From then, she became enamored with the idea of introducing socialist values to New Mareland ever since. Her drive and action have resulted in the former Governor-General declaring that the ponies have spoken. Since then, she leads New Mareland in her vision of the Stalliongradian socialism.
Grassroots Populist

Political Power Gain: +5.0%
Monthly Population: +10.0%

Gladmane




Non-Aligned

---

New Mareland Freedom Party

Entrepreneur and philanthropist, Gladmane comes from a nouveau riche family, notable for their hotel chains and multiple casino resorts in the beautiful city of Las Pegasus. However, a series of mistakes led to him leaving the city in disgrace, upon which he decided to seek a new area for his businesses. Arriving in New Mareland to examine a golf course he wished to purchase, he saw an opportunity and became determined to personally solve the country's woes in his unique way. Now president of the newly independent Equestrian colony, Gladmane seeks to make this country great again!
Deal Broker

Trade Laws Cost: -25%
Mobilization Laws cost: -25%
Economy cost: -25%

Kingfisher




Non-Aligned

---

New Mareland Freedom Party

Kingfisher, former governor of Celestia, now president of the Commonwealth, is an outspoken populist, dedicated to helping the poor and downtrodden of New Mareland. Believing that the other candidates won't lift a hoof to help the truly needy, Kingfisher campaigned for the office on the promises of redistributing the wealth centered in conglomerates and corporations. Attracted by his pledges, the ponies have elected Kingfisher, and now he returns the favour by implementing his policies.
Master Maneuverer

Political Power Gain: +15%

Duke Haygle




Supremacy

---

New Mareland Republican Fascist Party

Former army general turned politician, Duke Haygle is a strong believer in the maxim of might makes right. His notable oratory skills and personal magnetism have attracted many ponies, who are concerned about the hostile griffon nations, to his cause. Prim and proper, he will do everything to keep New Mareland and its ponies safe from the looming griffon invasion on the horizon.
Dictator

Political Power Gain: +25%

Picket Fence




Supremacy

---

New Mareland Republican Fascist Party
Staff and Designers
[
]
Political Advisors
Name
Trait
Prereqs
Effects
Cost

 Marching Order




Supremacist Demagogue

One of the following must be true:

Has completed focus Let All Have a Say Current ruling is Supremacy

Less than 60% support for NMRFP

Daily Supremacy Support: +0.10

150

 Happy Foster




Pro-Harmony Reformer

One of the following must be true:

Has completed focus Strengthen Equestrian Ties Has completed focus Support the Harmonists

Less than 60% support for UEP

Daily Harmony Support: +0.10

150

 Gear Forger




Communist Revolutionary

One of the following must be true:

Has completed focus Recognise Stalliongrad Current ruling is Communist

Less than 60% support for CPNM

Daily Communism Support: +0.10

150

 Free Flyer




Staunch Republican

One of the following must be true:

Has completed focus Let All Have a Say Current ruling is Non-Aligned

Less than 60% support for Freedom Party

Daily Support for Unaligned: +0.10

 Sunny Flare




Captain of Industry

Infrastructure construction speed: +10.0%
Civilian Factory construction speed: +10.0%
Refinery construction speed: +10.0%

150

 Sour Sweet




War Industrialist
Is not the current country leader

AI Modifier: Focus on War Production: +10.0%
Military Factory construction speed: +10.00%
Dockyard construction speed: +10.00%
Fuel Silo construction speed: +10.00%

150

 Sugarcoat




Prince of Terror

Non-core Ponypower: +2.00%
Foreign subversive activities efficiency: -30%
Damage to Garrisons: -25.00%

150

 Lemon Zest




Well-known Pony

Daily Political Power Gain: +0.10
Stability: +15.00%

150

 Wallflower Blush




Backroom Backstabber

Political Power Gain: +5%
Ideology drift defense: +15.0%

150

 Juniper Montage




Silent Workpony

Political Power Gain: +15%

150

 Amethyst Star




Quartermaster General

Air Base construction speed: +15.00%
Naval base construction speed: +15.00%
Rocket Site construction speed: +15.00%
Radar Station construction speed: +15.00%
Nuclear Reactor construction speed: +15.00%

150

 Upper Crust




Ideological Crusader
Current ruling party is Harmony.

Same ideology monthly opinion: +100.00%

150

 Neon Lights




Compassionate Gentleman

Improve relations opinion: +15.00%
AI Modifier: Focus on Peace: +5.0%

150

 Royal Pin




Smooth-Talking Charmer

Resources to market: -5%
Trade deal opinion factor: +10.00%

150

 Butter Cider




Illusive Gentlestallion
Has created an Intelligence Agency

Operative slots: +1
Agency upgrade time: -15.0%

150
Tank Designer
Name
Trait
Prereqs
Effects
Cost

 Mustang Automotive




Mobile Tank Designer

Armor Research Speed: +10%

Armor:

Max Speed: +5%
Reliability: +10%

By selecting this Design Company they will permanently affect capabilities on all equipment researched while they are hired.

150

 Rich-Set Industries




Medium tank designer
Has completed focus Equestrian Investors

Armor Research Speed: +10%

Armor:

Reliability: +5
Soft Attack: +5

By selecting this Design Company they will permanently affect capabilities on all equipment researched while they are hired.

150
Ship Designer
Name
Trait
Prereqs
Effects
Cost

 Sturdy Sails & Company




Celestia Sea Fleet Designer

Naval Research Speed: +10%

Carrier:

Capital Ship:

Armor: +10%
Heavy Attack: +10%

By selecting this Design Company they will permanently affect capabilities on all equipment researched while they are hired.

150

 Cockatoo Ship Yards




Escort Fleet Designer

Naval Research Speed: +10%

Screen:

Max Range: +30%
Sub detection: +10%
Max Speed: +10%
Production Cost: +10.00%

By selecting this Design Company they will permanently affect capabilities on all equipment researched while they are hired.

150

 Mareland and Timberwolf Heavy Industries




Lunar Ocean Fleet designer

Naval Research Speed: +10%

Carrier:

Deck Size: +25%
Armor: -15%
Max Range: +25%

Capital Ship: Max Range: +25%
Screen: Max Range: +25%
Submarine: Max Range: +25%
By selecting this Design Company they will permanently affect capabilities on all equipment researched while they are hired.

150
Aircraft Designer
Name
Trait
Prereqs
Effects
Cost

 Commonwealth Aircraft Corporation




One of the following must be true:

All of the following must be true:

Has completed focus Transoceanic Support
At Peace with Equestria

Has completed focus A Government in Exile

Air Research Speed: +10%
Fighter Range: +10%

Fighter/CV Fighter:

Production Cost: -5%
Agility: +10%
Max Speed: +10%

CAS/CV Dive Bomber:

Production Cost: -5%
Range: +10%
Ground Attack: +10%

150

 Sunset Car Company




Light Aircraft Designer

Air Research Time: -10.0%
Fighter Agility: +10%
Fighter Max Speed: +10%
Carrier Fighter Agility: +10%
Carrier Fighter Max Speed: +10%

150

 Cockatrice Aircraft Ltd.




Medium Aircraft Designer

Air Research Time: -10.0%
Heavy Fighter Reliability: +20%
Tactical Bomber Reliability: +20%

150

 Bombardier




Heavy Aircraft Designer

Air Research Time: -10.0%
Strategic Bomber Strategic Bombing: +10%

150

 Riverflight




Naval Aircraft Designer

Air Research Time: -10%
Naval Bomber Range: +10%
Naval Bomber Naval Attack: +10%
CV Naval Bomber Range: +10%
CV Naval Bomber Naval Attack: +10%

150
Materiel Designer
| Name | Trait | Prereqs | Effects | Cost |
| --- | --- | --- | --- | --- |
|  Haysaght & Company | Support Equipment Designer | | Support Unit Research Speed: +10% | 150 |
|  Littlehoof Small Arms Factory | Infantry Equipment Designer | | Weapons and Equipment Research Speed: +10% | 150 |
|  New Mareland Cannon Foundry | Artillery Designer | | Artillery Research Speed: +10% | 150 |
|  Freemare Rail Company | Motorized Equipment Designer | | Motorization Research Speed: +10% | 150 |
Industrial Concern
Name
Trait
Prereqs
Effects
Cost

 New Manehatten Steelworks Ltd.




Industrial Concern

Industrial Research Speed: +10%

150

 New Mareland Institute of Technology




Electronics Concern

Electronics Research Speed: +10%

150

 Southern Oil Company Inc.




Refining concern

Synthetic Resources Research Speed: +10%
Industrial Research Speed: +5%

150
Theorist
Name
Trait
Prereqs
Effects
Cost

 Moon Dancer




Bookworm

One of the following must be true:

All of the following must be true:

Has completed focus Transoceanic Support
At Peace with Equestria

Has completed focus A Government in Exile

Research Speed: +5.00%
Nuclear Research Speed: +7%
Magic Research Speed: +7%

150

 Tall Sails




Naval Theorist

Naval Doctrine Research Speed: +7%
Navy Experience Gain: +0.05 daily

150

 Free Skies




Air Warfare Theorist

Air Doctrine Research Speed: +7%
Air Experience Gain: +0.05 daily

150

 Counter Pusher




Military Theorist

Land Doctrine Research Speed: +7%
Army Experience Gain: +0.05 daily

150

 Radiant Glow




Nuclear Scientist

Nuclear Research Speed: +7%

150
Chief of Army
Name
Trait
Prereqs
Effects
Cost

 Steadfast




Army Defence (Expert)

Army Defence: +10.0%
AI Modifier: Focus on Defence: +10.0%

150

 Stormfeather




Army Offence (Expert)

Army Attack: +10.0%
AI Modifier: Focus on Offence: +10.0%

150

 Fine Comb




Army Organization (Expert)

Division Organization: +8.0%

150

 Iron Spear




Old Guard

Experience Gain Army: -10.0%
Political Power Gain: +10.0%

150
Chief of Navy
Name
Trait
Prereqs
Effects
Cost

 Depth Charged




Anti-Submarine (Expert)

Submarine Detection: +15.0%

150

 Sea Salt




Commerce Raiding (Expert)

Convoy Raiding Efficiency: +15.0%

150

 Stormy Rain




Decisive Battle (Expert)

Capital Ship Attack: +10.0%
Capital Ship Armor: +10.0%
Screen Attack: +10.0%
Screen Defence: +10.0%

150

 Water Drops




Naval Reformer (Expert)

Experience Gain Navy: +10.0%

150
Chief of Airforce
Name
Trait
Prereqs
Effects
Cost

 Indigo Zap




Air Combat Training (Expert)

Ace generation chance: +10.0%

150

 Star Hunter




Air Reformer (Expert)

Experience Gain Air: +7.5%

150

 Angel Wings




Air Safety (Expert)

Air Accidents Chance: -10.0%

150

 Wild Fire




Air Superiority (Expert)

Air Superiority Attack: +3.0%
Air Superiority Defence: +3.0%
Air Superiority Agility: +3.0%

150
Military High Command
Name
Trait
Prereqs
Effects
Cost

 Shining Shield




Army Morale (Expert)

Division Recovery Rate: +8.0%

150

 Quick March




Army Drill (Expert)

Division Training Time: -10%

150

 Diggery Doo




Entrenchment (Genius)
150

 Thunderboom




Army Maneuver (Expert)

Division Recovery Rate: +8.0%

150

 Quarter Pounder




Artillery (Expert)

Artillery Attack: +15.0%
Artillery Defence: +10.0%

150

 Nyota




Zebrican Close Combat Expert

Special forces Attack: +15.0%
Special forces Defence: +15.0%

150

 Quarter Hearts




Infantry (Specialist)

Infantry Division Attack: +5.0%
Infantry Division Defence: +10.0%

150

 Suri Polomare




Uniform Designer

Division Recovery Rate: 2.5%
Winter Attrition: -5%
Heat Attrition: -3.5%

150
Technology
[
]
Army
Naval
Air
Tech / Industry

Weapon 1007 (Rose Type-E)
Engineer Company I
Recon Company I
Early Tank (Bitty Simple)
Artillery I (8-inch Howitzer)
Anti Tank I (QF 2-Pounder)
Anti-Air 1 (37mm Gun M1)

Early Destroyer
Early Crusier
1007 Cruiser
Early Submarine
Transport Ships

Early Fighter (Skywind)
Early CV Fighter (Kite)
Naval Bomber I (Dolphin)
CV Naval Bomber I (Tern)

Early Bomber (Broadsword)

Doctrine
Racial

Trench Warfare (Grand Battleplan)
Economy
[
]
Laws and Development
[
]
Laws and Development
Conscription Law
Trade Law
Economy Law
Volunteer Only

---

Recruitable Population: 1.50%

Export Focus

---

Construction Speed: +10.00%
Research Speed: +5.00%
Factory Output: +10.00%
Dockyard Output: +10.00%
Resources to Market: +50%
Civilian intelligence to others: +20.0%
Navy intelligence to others: +10.0%

Civilian Economy

---

Industrial Research Speed: +3%
Electronics Research Speed: +2%
Consumer Goods Factories: 35.0%
Military to Civilian Factory conversion cost: +30.00%
Civilian to Military Factory conversion cost: +30.00%
Fuel Gain per Oil: -40.00%
Fuel Capacity: -25.00%
Infrastructure construction speed: +10.00%
Military Factory construction speed: -30.00%
Civilian Factory construction speed: -30.00%
Refinery construction speed: +5.00%

Scientific Development
Society Development
Illiteracy
Developed Science Base

---

Modern Society

---

Negligible Illiteracy

---

Poverty
Race
Negligible Poverty

---

Pony

---
Industry and Resources
[
]
Factories

| | | |
| --- | --- | --- |
| 4 Military Factories | 3 Naval Dockyards | 8 Civilian Factories |
Resources*

| | | | | | | |
| --- | --- | --- | --- | --- | --- | --- |
| Oil | Aluminum | Rubber | Tungsten | Steel | Chromium | Crystal |
| 46 | 98 | 0 | 14 | 41 | 0 | 57 |