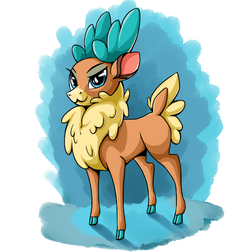 The Deer are a pony-like race which inhabit the

 Kingdom of Olenia in Western Equus and

 Austurland which in the far south-eastern area of Griffonia.
They are a Nordic-based race with a history of raiding and using longships. They are similar to Griffons in that they have limited magical ability, especially compared to Unicorns and Changelings, but the magic they have is based around contacting spirits and the powers of the Seers. Because of this lack of magic, they have adapted to use ferocity and knowledge of the sea and their home terrain to their advantage.
Deer Religion
[
]
The deer have a loose religion of related customs and gods that focuses on calling upon appeasing local spirits and giving offerings to a small pantheon of gods. These gods are:
Ukko - King of the Gods. God of justice, war, and wisdom.
Pellervo - God of the harvest and fertility.
Vellamo - Goddess of the sea and weather.
Tuoni - Goddess of death.
Loviatar - Goddess of disease and decay, daughter of Tuoni.
Racial Tech
[
]
The Deer research tree is focused around passive improvements to the nation, boosts towards naval efficiency, reconnaissance and planning bonuses, bonuses towards fighting in mountains and cold terrain. In general, it is suited well for a defensive strategy, but they're capable of going on an offensive.
Economy & Trade
[
]
[

]
Divination
[
]
Military
[
]
Alongside the movement bonuses for units, this branch contains two mutually exclusive subbranches. Motti branch focuses on defensive tactics, further movement speed bonus in mountains and hills and division strength on core territory. Spirits of the Ancestors enables aggressive tactics, boosts units fighting in forests and improves the deer marines.