Jurassic World: Dominion Dominates Fandom Wikis - The Loop
Play Sound
Equestria has lived in harmony for a millennium under the guidance of the Alicorn Princess, Celestia. The nation has faced many recent threats and prevailed with the Power of Friendship and Harmony. However, in these changing times, the fate of nations no longer rests upon shoulders of heroes, but politics and military might. The peace-loving nation of ponies now finds itself in a new world with foes not only at their borders but among their numbers as well.
How will Equestria approach the troubling times ahead? Will Friendship and Harmony still be its mantra? Or will this be the end of Harmony for the ponies?
Lore
[
]
The Founding of Equestria
[
]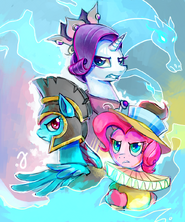 An ancient land whose exact origins are shrouded in myth and legend, Equestria is the nation of ponykind, of the three equine races which unified to face a hostile world. There are Earth Ponies, with a strength and affinity for growth and life, Pegasi, with the ability to fly and manipulate weather, and Unicorns, spellcasters with horns capable of impressive feats of magic. There are also Thestrals (also referred to as Batponies), who are night-dwelling cousins to the Pegasi, and are occasionally considered the fourth equine race. However, they never formally joined Equestria, and their legal status is currently in question.
The new alliance proved fruitful, and great pony heroes arose, protecting the fledgling nation. The wisest and most powerful among them, Starswirl the Bearded, recognized the potential of two young Alicorns, who were rare and legendary ponies possessing the traits of all 3 races. He crowned the Alicorn Sisters Celestia and Luna as Princesses of Equestria, tasking them with ruling and protecting the land from harm. Celestia and Luna soon realized their destinies were to wield control over the Sun and Moon respectively.
The princesses defended the kingdom throughout its early age from monsters, demigods, and disasters, and in doing so they discovered the Tree of Harmony, wielding the magic of its Six Elements, being Honesty, Kindness, Laughter, Magic, Loyalty, and Generosity. They established friendly relations with the neighbouring

 Crystal Empire, a kingdom of crystal ponies, who embraced Alicorn rule under the Amore dynasty and wielded the magic of the powerful crystals that grew in their domain, prospering under the magical strength of its powerful core, the Crystal Heart.
The Fall of the Crystal Empire and The Long Peace
[
]
However, this age of expansion and victory would not last.
A twisted unicorn of shadow, Sombra, rose in the Crystal Empire, overthrowing the Amore dynasty and enslaving the populace. Celestia and Luna used the Elements of Harmony to defeat and banish him to the Frozen North. But Sombra, bitter with his imminent imprisonment, cursed the Crystal Empire, locking it away along with him. Where once a proud city stood, only an icy wasteland remained.
The princesses returned to their stewardship of Equestria. But Princess Luna, given responsibility for the night, grew lonely and resentful as ponies shunned the night, preferring to play and work in the light of her sister's day. She became twisted and possessed by dark magic, transforming into the "wicked mare of darkness", Nightmare Moon. Attempting to impose perpetual night and rule alone, Nightmare Moon confronted Celestia. With a heavy heart, Celestia wielded the Elements of Harmony, defeating her sister and locking her away on the Moon. Terrified of Nightmare Moon and ill omens of the night, ponies lynched and attacked Thestrals, creating a rift between the two societies that would never heal.
Mournful but resolute, Celestia ruled Equestria under the mantle of Harmony and its guiding philosophy of cooperation, friendship, and trust, supported by careful management of ecological and climate balance. Peace and Prosperity reigned, and the years grew into centuries. Empires rose and fell, but Equestria remained. Stable. Idyllic. Stagnant.
The Stirrings of Change
[
]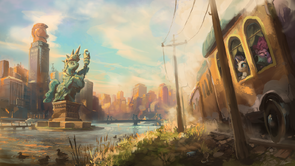 Centuries passed, and Celestia rarely spoke of Luna's banishment and the times before it. History fell into myth, myth spun into legends. But slowly change began to stir. The continent of Griffonia was discovered, and contact with the long lost Eastern Ponies of the Riverlands was reestablished. Equestria also founded the colony of

 New Mareland. Magitech, steam power, and electricity transformed pastoral villages into bustling cities and the printing press made literacy possible for the masses. Railways advanced settlements south into Buffalo territory, while archaeologists and adventurers pressed deep into the jungles to unearth ancient relics and magic. Friendships strained as the harmony of the village gave way to the chaos of the city and free market.
With change came strife. In 979 ALB

 New Mareland, which had heavily invested in the growing markets of the

 Griffonian Empire, suffered economic disaster as the Griffonian Empire collapsed into warring states and revolutionary uprisings. Separated by distance and already overextended, Equestria declined to provide substantial assistance.
In 991 ALB the Northern Equestrian Region of

 Severnaya faced crop failure and impending famine. The growing Equestrian Capitalist Class charged extortionate rates for food and refused to drop prices. Revolutionaries began to speak of an alternative system, where all are equal. A zealous crackdown by the Equestrian Guard sparked an uprising, and eventually lead to Severnaya's secession from Equestria as a Communist state, naming itself

 Stalliongrad. Shocked by the crackdown and ensuing violence, Princess Celestia withdrew Equestrian Forces from the region, and fired the Captain of the Guard.
The Return of Nightmare Moon and the New Princesses
[
]
In the capital of Canterlot, as the 1000th year of Nightmare Moon's banishment approached, ancient prophecies whispered of her escape. Celestia entrusted her hopes to her star magical protégé, the young unicorn Twilight Sparkle, whom she dispatched to Ponyville to learn about Friendship and Harmony. As feared, Nightmare Moon escaped her bounds, defeated Celestia and destroyed the Elements of Harmony. But Celestia's gamble paid off, and Twilight Sparkle and her new-found friends (Applejack, Rainbow Dash, Rarity, Fluttershy, and Pinkie Pie) were able to incarnate as the Avatars of Harmony, defeating Nightmare Moon and restoring Princess Luna.
The Dual Monarchy was restored even as Equestria faced new challenges, including increasing tensions with the Buffalo Tribes and the escape of chaotic demigod Discord. However, these paled in comparison to the surprise invasion by the Changelings in 1002 ALB, a race of insect-like shapeshifters from the north who fed on the love of their victims.
By infiltrating the palace and replacing Alicorn Princess Mi Amore Candenza of the Amore Dynasty, Queen Chrysalis and her hive were able to take Canterlot by surprise, capturing both Celestia and Luna. Only Twilight Sparkle's last-minute intervention and the assistance of the real Princess Cadence defeated Queen Chrysalis, which also drove her changelings out of the city.
In recognition of their protection, Celestia permanently entrusted the Elements to Twilight Sparkle and her friends. No longer the holders of the Elements of Harmony, Celestia and Luna's banishment spell on Sombra and the Crystal Empire faded, returning both the Empire and Sombra to Equestria.
Twilight and her friends restored the Crystal Empire's Crystal Heart and drove off Sombra, this time keeping the Crystal Empire intact. Princess Cadence was appointed the Empire's head and the Amore Dynasty once again ruled the Crystal Empire.
Twilight's heroism, her magical achievements, and her growth as a wielder of Harmony culminated in her ascension into an Alicorn form, and she was crowned as the Princess of Friendship by Princess Celestia.
Present Day and the Coming Storm
[
]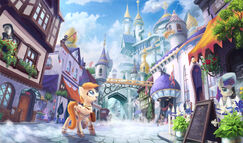 With four Alicorn princesses now supporting Equestria and Harmony, Harmonic Principles are beginning to re-emerge in the rapidly changing modern world, and Equestria is making itself true again. Recent ambassadorial efforts with the Yaks have been effective, and the new dragon Queen Ember has tentatively begun to experiment with Harmonic Principles. A new School of Friendship, established by Twilight Sparkle to promote peace and understanding between promising future elites of the various races, is representative of Equestria's hopes.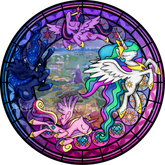 At the same time, conflicts appear to be the new norm, with Equestria only narrowly defeating very recent invasions by the Storm King and the demonic Tirek thanks to the efforts of the Princess of Friendship and her friends there also seems to be resistance growing in the south and Ponies are beginning to question the reliance on the Elements of Harmony, and the obvious lack of military preparation. To answer their concerns, Celestia has called for a comprehensive review of external threats and current Equestrian preparedness.
Meanwhile, Luna grows more comfortable in her role as ruler, and has created an ambitious proposal to heal the ancient rift between Thestral and Pony.
All may seem well, but the Changelings to the north remain united, now eyeing Equestria with a new desire: revenge.
Gameplay and Strategy
[
]
Starting Situation
[
]
Equestria starts as a continental superpower, with a large industrial base, a decent army, some of the best tech in the game (second only possibly to

 Stalliongrad ), and two puppets (

 Crystal Empire and the
 Commonwealth of New Mareland). Like the USA in vanilla HOI4, this strength is offset by its peaceful nature - its national spirits slow research and military expansion, and it is locked from increasing conscription or progressing beyond Early Mobilization. The spirits and locks cannot be fully removed without the onset of a major war or 40% War Support.
The Equestrian Army begins with 99.50k deployed ponies, including 1 half-strength Light Tank division, 1 40% strength Light Tank division, 1 30% strength Pegasus division, 2 capable (but only at 20% strength) Onhooves divisions, and 16 poorly trained and equipped Royal Guard and Garrison divisions who pose little to no value when it comes to frontline combat.
The Equestrian Navy is respectable, notably including 37 ships, which include 5 Battleships, 3 Battlecruisers, 1 Heavy Cruiser, 3 Light Cruisers, 24 Destroyers, and 1 Aircraft Carrier. With a force of this size and the largest number of dockyards in the world the player should easily be able to maintain an edge over their enemies. Thanks to Level 2 Light Cruiser and Destroyer technology, Equestria can pick up a fight with the dangerous Changeling submarines, who will surely try to wreak havoc on the convoy trade routes.
The Equestrian Airforce is big yet obsolete, possessing 265 Pre-War Fighters, 18 Pre-War Carrier Fighters, 24 Naval Bomber I's, and 40 Pre-War Bombers. However, Equestria starts with a 70% discount to Fighters, allowing it to quickly begin Fighter I production. It is also important to note that Equestria starts with Naval Bomber I's carrier variant already researched.
Threats and Opportunities
[
]
 Changeling Lands - The primary threat to Equestria. They will have to subjugate Olenia before invading Equestria when they are ready, unless the Harmonic Civil War breaks out and Thorax succeeds. Similar to vanilla Germany, they possess a smaller industrial base but are heavily militarized from the start. The Changeling Lands may take focuses to infiltrate Equestria, providing penalties to political power and stability. Beware the Changeling Infiltrators that can emerge behind your front lines near Vanhoover after the outbreak of war.
 Kingdom of Olenia - The deer nation starts off non-aligned, although has a chance of a communist revolution under Kullervo Sirola, a seizure of power by Aarimviiki Peurkonto, or a civil war to put Queen Velvet in charge. Olenia may attempt a civil war to restore Velvet to the throne without Equestrian interference, but Equestrian focuses offer the ability to influence the government and ultimately spark the civil war, having the ability to directly intervene. An early installation of Queen Velvet allows Equestria to guarantee them, greatly hindering the changeling expansion and potentially pulling Equestria into the war at an earlier, more equal stage.
 Crystal Empire - Although an integrated puppet, the Crystal Empire may use focuses to become independent via the Referendum for Independence focus, the Communist Path, or by unleashing Sombra, the communists having a choice to spark a civil war, and Sombra leading to a definite civil war. Equestria will be unable to intervene to stop Sombra for a substantial period, although eventually a wargoal against Sombra will become available should Cadance last long enough.
 Commonwealth of New Mareland - Similar to Australia under British Colonial Rule, the Commonwealth of New Mareland starts off as a Dominion, although may seek independence from Equestria. Located on South-Eastern Griffonia, it is of limited use for the immediate conflicts Equestria faces, though it is a useful platform for possible later operations on Griffonia. However, it may also be the target of a supremist Wingbardy.
 Stalliongrad - The Communist nation can be either friend or foe depending on its election for General Secretary, choosing between Vasily, Dark Wing or Sinister. Vasily will attempt to spread Communism in Equestria and elsewhere through focuses, although he may also choose to actively join the fight against the changelings. Dark Wing will support reapprochment with Equestria, and eventually request to be an Equestrian puppet. Sinister will pursue a militaristic policy, eventually targeting Equestria after fighting the northern nations.
 Buffalo Chiefdom - The buffaloes block focuses for Southern Equestria (and the Tenochtitlan State University research slot). It can be pressured to join Equestria, or forcibly annexed via war. However, if the player chooses to wage war, they will recieve an enormously expensive consequence of political power, war support, and stability. Under Chieftain Strongheart the buffaloes will likely join Equestria on their own initiative, saving the player the need to waste time on those focuses.
 Nova Griffonia - Weak at the start date, Nova Griffonia will likely consolidate its power over the region. It may pose a threat to Equestria if it goes Communist and allies with Stalliongrad, or goes Supremacist and wars the nearby minors. Although not a serious threat alone, it can cause headaches in a two front war during a changeling conflict.
Other minors - Yakyakistan, Jaki-Clan, the Polar Bear Communities, and the Kingdom of Pingland are too small to pose a serious threat, but may be conquered by surrounding powers. Guarantees of the Yaks or a request for a guarantee from the Harmonic Penguin Government offer opportunities to get involved against other meddling powers.
The Continent of Griffonia and the  Griffonian Empire - Equestria is not well positioned for intervention across the sea until the Changeling Threat is resolved, but can intervene in later conflicts if it wishes. The Griffonian Empire is likely to continue expansion and reclaim its former territory from various nations, which can cause a rival superpower. Equestria may wish to support the Republic of  Aquileia (if it forms), a Harmonic  Wingbardy,  Greifenmarschen (which may seek a guarantee under the right circumstances) or the  Griffonian Republic in the interests of frustrating the goals of the Griffonian Empire.
Gameplay Walkthrough
[
]
The Forgotten Tribe
[
]
The Forgotten Tribe spirit represents the ancient schism between Thestrals (Batponies) and the three other races. This spirit especially hurts Equestria's recruitable population and defence.
At the end of the first year Princess Luna will propose a series of reforms to resolve the problem. Celestia can choose to back these reforms personally (Option 1), or allow Luna to lead them (Option 2 or 3). Option 1 is safer but more expensive. The Luna led reforms lead to a long character arc about Luna, and are more dangerous - they can remove the spirit at almost no cost, but can also lead to civil war if the player is not careful.
Celestia Backed Reforms
[
]
The reforms will occur over the next year, and involve three sets of choices. To successfully remove the spirit, Equestria must earn 4 reform points, using expensive reforms. Anything less will cause the spirit to only be partially removed. It cannot be removed otherwise unless the Solar Empire is formed.
Reform Strength
Business
Extremism
Friendship
Strong (+2 points)

For 1 year:
+30% Industrial Research Time
-10% Construction Speed
-10% Factory Output
-10% Dockyard Output
-1 Civilian Factory
-1 Military Factory

-6.00% Base War Support
For 1 year:
+20% Land Doctrine Research Time
+0.02 Daily Harmony Support
-0.10 Daily Political Power

-200 Political Power
For 1 year:
+0.03 Daily Harmony Support
-0.05 Daily Political Power

Decent (+1 points)

For 1 year:
+18% Industrial Research Time
-6% Construction Speed
-6% Factory Output
-6% Dockyard Output
-1 Civilian Factory

-4.00% Base War Support
For 1 year:
+12% Land Doctrine Research Time
+0.01 Daily Harmony Support
-0.06 Daily Political Power

-120 Political Power
For 1 year:
+0.02 Daily Harmony Support
-0.03 Daily Political Power

Token (0 points)
+50 Political Power
+50 Political Power
+50 Political Power
Luna Led Reforms
[
]
Princess Luna will take up the cause, eventually leading to a referendum on welcoming Thestrals into Equestria. Behind the scenes, her alter ego Nightmare Moon will attempt to prepare for, and provoke, a civil war.
Luna must choose who to seek support from.
The Elements of Harmony - Rarity will join Luna in her campaign efforts and support her as a friend. Rarity will always attempt to block a civil war, helping to further reduce the chance of war (unless civil war buildup is discovered early). Should a civil war occur and Nightmare Moon take the benevolent path, Rarity will become recruitable as a Popular Figurehead.
Supporters and Activists - Luna will learn more about her true role as a ruler and look to Equestria's future. Without Rarity blocking, the player may safely aim for a civil war.
After this decision is made, Luna will receive 4 events from the perspective of 4 different groups in Equestria relating to the reforms - cultists recruited in dreams, progressive activists, batpony clans and the Equestrian Royal Guard. Each event has an aggressive, semi-aggressive and peaceful option.
The Aggressive option will increase the buffs Luna gets in the civil war, but also will increase an internal point value by 2 for the riskiness. If the preparations are discovered by going over 5 points, a civil war will begin early with Nightmare Moon at a severe disadvantage in force size, and be hit with multiple negative national spirits. The aggressive option also makes it more difficult for Luna to resist a civil war at the end of the chain.
The Semi-Aggressive Option will also increase the buffs, but by a lesser amount. It will also increase the point value by 1. It will make it more difficult for Luna to resist as well, but less so.
The Peaceful Option offers no penalties or bonuses does not increase the point value. It will also increase the chance of Luna successfully resisting.
At the end of the chain, Luna's reform efforts will culminate in a speech in Manehatten. There, Nightmare Moon will attempt to seize control and start a civil war as the
 Lunar Empire. Luna may give in or resist. If the player has chosen only peaceful options in the events prompted during the path, then she will always succeed in resisting Nightmare Moon. Otherwise, the chance varies from low to almost-certain. If Luna gives in, Nightmare Moon overtakes her and the Lunar Empire forms. Then, the Equestrian Civil War will truly begin.
If a civil war begins, the maluses will be removed and the player will be able to choose to play as Equestria, its vassals (if they have not pursued independence), or the Lunar Empire.
If Luna successfully resisted Nightmare Moon, the maluses will be removed and Luna will assume her place as a true co-equal ruler alongside Celestia.
Leader
Party
Description
Traits

Princesses Celestia and Luna




Harmony

---

Alicorn Rule

The Princesses of Equestria, Celestia and Luna wield power over the Sun and Moon respectively. Despite the Diarchial power structure, Equestria has always been ruled by Celestia, leaving Luna to assume a supporting role. The recent campaign to welcome the Fourth Tribe into Equestria has changed this, and Princess Luna has now assumed a complementary role alongside her sister, working to realise the dreams of her subjects.
Princesses of Ponies

Stability: +10%
Political Power Gain +0.25
Unlocking Wartime Reforms
[
]
Equestria has a variety of political and industrial focuses available to it. The heart of the tree is the Wartime Reforms, which lock off a variety of focuses that make Equestria incredibly powerful and dangerous. Naturally, the player will want to reach it as soon as possible.
The Urgent War Committee Focus leads to the removal of Equestria's peacetime maluses and unlocking its full power as a superpower. It is available after one of the following:
> 50% World Tension
a major justifying war or currently in an aggressive war against Equestria
a civil war
> 20% surrender Progress
> 40% War Support
Most commonly, this is unlocked by Chrysalis taking the 140 day-long "Lead the Armies" focus. The player should monitor the changelings, plan accordingly, and avoid accidentally starting a 70-day focus just before the changelings begin to justify.
This tree leads to a variety of new capabilities - new generals, new command staff and advisers, and new decisions unlocked to change your conscription laws and making it possible to change economic laws instantly.
As the tree is progressed, the player will be offered choices as to the severity of the wartime reforms - reluctant rearmament without compromising pony values, a desperate embrace of military reform and new powers for a new era of war, or a middle path between the two. These decisions will also be reflected in the Toll of War, an item in the decision tab that measures the psychological impact of the war on Celestia, and Equestria's attitude towards militarism.
Wartime Militias
[
]
If Equestria is losing a defensive non-civil war (>10% surrender) with a major, it can recruit militias from 5 regions for 40 political power each. The decisions take twenty days to complete and drain PP while active. Each region provides 7-12 infantry divisions at near full equipment level, each with 6 infantry battalions and a support artillery battalion.
Post War Reforms
[
]
After a major war, ponies, shocked over the radical destruction and transformation of their peaceful life, will question the wisdom of the Princess's rule, and advocate democratic reform. The player may crackdown on these demonstrations if Celestia is at a high enough toll of war, ending the chain quickly but without further bonuses. Or they may hold a referendum and embark on government reform, ranging from a renewal of the existing system, a total transformation to a Democratic Republic, or something in between. Regardless, the completion of this chain will grant a variety of bonuses, greatly boosting Equestria's military strength and its ability to intervene elsewhere.
If Equestria pursues as Constitutional Monarchy (The New Royal Role) or a Republic (The New Equestrian Republic), a President/Prime Minister will be elected. These have various bonuses, as shown below. Note that the choice of leaders differs slightly depending on the selection of a Republic or Constitutional Monarchy.
Leader
Party
Description
Traits

Fancy Pants




Fancy Pants is a renowned member of the old Canterlot elite aristocracy, a shrewd businesspony and a clever diplomat. Though uptight as many Canterlotians are, he has occasionally shown a softer side such as his favorable business dealings with Rarity and forgiveness to the aid of Princess Twilight Sparkle after a notable debacle while she was attending other business. With these qualities, he is a natural choice for a leader that the traditional elite are content with, though some ponies may not agree with his strongly orthodox methods and policy.
Well Connected Diplomat

Political Power Gain: +10%
Trade Deal Opinion Factor: +10%
Improve Relations opinion: +10%
Same ideology monthly opinion: 20%
Subversive activities cost: -10%

Filthy Rich




A member of Equestria's nouveau riche at least by Canterloninan standards, Filthy Rich is a pioneering capitalist and industrialist. Ruthless in his business tactics though perhaps not the sharpest at governmental administration as demonstrated by his first and only term as Mayor of Ponyville, his skills at the trade floor translate well to the negotiations table in economic matters. He entered the new democratic political scene through his financial influence and power, under the simple but to some, sort of unsettling catchphrase "Make Equestria Great Again", though not exactly specifying how in the face of opponents with more clear motives, goals, and methods.
Wealthy Industrialist

Resources to Market: -5.00%
Trade Deal Opinion Factor: +15.00%
Resource Gain Efficiency: +10.00%

Mayor Mare




Considered a pioneer in many respects, Mayor Mare, otherwise known as Flitter Flutter, trailblazed many aspects of democratic campaigning at the local level. Despite a few rough patches in her long administration as the Mayor of Ponyville, losing once to Filthy Rich, she has proven to be both a well meaning and effective leader and diplomat, again at the local level. It remains to be seen if she can effectively run a whole nation as well as she can run a city.
Grassroots Populist

Political Power Gain: +5%
Monthly Population: +10.0%

Maxos Eternal




Hailing from the wide, warm open plains of southwest Equestria, Maxos Eternal was part of the last generations of rural frontierspony and later a successful landowning rancher. He was a stallion who cared very much about his fellow equine and looked to make his mark helping others, becoming a key figure in maintaining the Equestrian food supply and overall rationing system when the Lunar Civil War broke out. He naturally became part of the political scene in the wake of the democratic movement after the civil war due to his popularity and reputation for fairness, joining the movement on a platform of simply hearing out his fellow ponies and acting on their wishes.
Rural Populist

Effect of our partisans: +10%
Recruitable Population Factor: 5%
Monthly Population: +5.0%
Resource Gain Efficiency: +5%

Ember Spark




Ember Spark was a veteran Pegasus trooper and one of the most decorated enlisted soldiers in the Equestrian Army, having joined as soon as he was eligible in 997. He proved to be a capable and fair leader who turned down promotions to an officer several times. At the behest of many of his fellows in the army, he reluctantly joined the rising democratic movement during an R&R period during the Lunar Civil War. Once it had ended, with the support of his many brothers and sisters in arms, he took up a platform focused on the defense of future peace and harmony in this new, changed Equestria.
Highly Decorated Trooper

Land Fort Construction Speed: +10%
Coastal Fort Construction Speed: +10%
Anti Air Construction Speed: +10%
Radar Station Construction Speed: +5%
Air Base Construction Speed: +5%
Division Attack on Core Territory: +5%
Division Defense on Core Territory: +5%

Prince Blueblood




A well educated and accomplished general from the Equestrian military, Prince Blueblood rode his popularity as a hero of Equestria and his traditionally inherited power as a prince through the elections and into his new role as the executive of the nation. His tactics as a general were strict, disciplined, and conservative, not to mention highly effective, and he carries those methodologies into his administration. Though not necessarily the most humble politician, Blueblood knows how, when, and what to say what the public wants to hear, knows what the public wants, and has the intellect to carry out their will efficiently. Finally, his knowledge as a general gives his pragmatic administration great insight into the military and the defensive needs of the nation, essential in the torn and chaotic modern world.
War Hero - General

Land Fort Construction Speed: +10%
Coastal Fort Construction Speed: +10%
Anti Air Construction Speed: +10%
Radar Station Construction Speed: +5%
Air Base Construction Speed: +5%
Political Power Gain: +5%
Dockyard Construction Speed: +5%
Military Factory Construction Speed: +5%

Ledd Metal




Ledd Metal was an established blacksmith within the traditional medieval guild system of Equestria when the Equestrian Industrial Revolution came full swing in the 980s, he became caught up in the winds of change as many guilds and craftsponies gave way to unskilled labor and unions. Disgruntled by the waves of change, avoiding the draft during the Lunar Civil War as a skilled metalworker, and seeing his fellow ponies striving to determine their own fates, he pulled together the support of the remaining old guilds, he joined the political scene on the platform to preserve the old harmonic order with the new methods of democracy.
Political Oddball

Civilian Factory Construction Speed: +5%
Infrastructure Construction Speed: +10%
Free Repair: +10%
Improve Relations Maintain Cost: -15%
Note: Mayor Mare and Ember Spark can only be selected if Equestria becomes a Republic, while Prince Blueblood and Ledd Metal can only be chosen if Equestria becomes a Constitutional Monarchy. The other candidates (Fancy Pants, Filthy Rich, and Maxos Eternal) can be chosen regardless of what Equestria becomes.
Alternate Paths
[
]
Daybreaker and The Solar Empire
[
]
See the Solar Empire page for further information on playing as the Solar Empire. See Equestria Secrets for detailed mechanics of war reform and ascension to Daybreaker.
Civil War and The Lunar Empire
[
]
For details on how to begin the civil war, see Luna Led Reforms. See the Lunar Empire page for further information on playing as the Lunar Empire. See Equestria Secrets for detailed mechanics of the Civil War.
Equestrian Regency
[
]
An April Fools Crossover with The New Order: Last Days of Europe, which is vastly different from other paths. Can only be activated if the game rule is turned on.
National Focus
[
]

Buffalo Relations is a path to integrate and develop the southern regions of Equestria, but requires a resolution to the buffalo tensions You will be given a first and second opportunity to resolve the situation with the buffaloes peacefully. If Chieftain Strongheart is selected, she will likely join Equestrian on her own accord, bypassing the first two focuses. This path contains a Tenochtitlan State University, granting an extra research slot. However note the 119 day completion time - don't take it just before a changeling war.
Maintain the Status Quo helps with Yakyakistan and Olenia, providing Equestrian influence to launch a coup in Olenia and an envoy to Yakyakistan that will allow a guarantee, and eventually allow you to call them into a defensive war.
Examine the Situation is a prerequisite to assistance to the Crystal Empire, industrial focuses, and changeling defence.
Increase Presence in the Crystal Empire will provide support for the Crystal Empire and PP for Equestria. It will also alert Equestria if a Sombra return is imminent. The final focus provides the ability to block the Sombra Return. However, if the Crystal Empire is going to resurrect Sombra, you will not be able to take it in time anyway. Note that the Crystal Fair focus does nothing for the Crystal Empire. The industrial presence outside the main city will also assist Cadence in the civil war should Sombra return.
The central branches start the industrial focuses. Spitfire Research and Riptide Research can allow Equestria to field strong fighters and tanks should it choose, and Magical Crypto Machines provides excellent benefits for electronics. Note that if the player is planning a civil war, a few focuses from this branch are focused on construction in the east of the continent.
School for Gifted Unicorns provides bonus to research and leads to an extra research slot, and notably includes a 60% bonus for land doctrines and some racial research bonuses.
The Changeling Problem builds up Equestria's borders against the changelings, and provides small amounts of war support, which assists in changing to early mobilization. Note that the fortifications do not cover the complete border with the Changeling Lands.
Urgent War Committee will unlock the military reforms of Equestria.
Reforms - On the left branch, Extreme Measures, Renovate Political System and Eradicate Bureaucracy are required to fully remove Stagnation of Harmony, and each will provide a decision regards the severity of the reforms. More severe reforms will boost attributes such as political power, war support, recruitable population, mobilization, and increase support for Supremacy. Weaker reforms will provide more political power. Put Down the Magic of Friendship with remove the associated spirit, with a similar decision about this reform. Finally, War Plan will give the War Plans spirit, a powerful spirit but one which drains war support and stability over time. It will be removed in peacetime and must be reactivated in future wars with a 100PP decision. These decisions will also be reflected in the Toll of War, an item in the decision tab that measures the psychological impact of the war on Celestia, and Equestria's attitude towards militarism.
Stalliongrad - The right branch opens up operations for cooperation with Stalliongrad. This path is worth taking even if the player DOES NOT intend to work with Stalliongrad, as the invitation can be declined before sending for 150PP. If Stalliongrad does join the war, Military Coordination will provide a 50% land doctrine discount for both nations and Stalliongradian tank projects will provide a 50% armor discount for both nations. At the end of the war Stalliongrad may demand their cores as the price for the prior support. If refused they will leave the alliance. The land is not particularly valuable so Equestria can give it up without excessive burden.
Technology
[
]
Army
Naval
Air
Tech / Industry

Lavender Rifle (Weapons I)
Jackalope AS-3 (Motorized)
Basic Armored Car
Support Equipment
Engineer Company I
Recon Company I
Military Police I
Yak 'Tank' (Yak 'Tank' Infantry Fighting Vehicle) (Early Tank)
Breezie (L. Tank I)
Model 8 (Model 8 70mm Howitzer) (Artillery I)
Anti-Air I (Towed Anti-Air)
Anti-Tank I (Towed Anti-Tank)

1007 Destroyer
Passive Sonar
Smoke Generators
Basic Depth Chargers
1007 Cruiser
Basic Cruiser Armor Scheme
Early Heavy Ship
Inclined Belt Armor Scheme
Deck Conversations
Early Submarine
Basic Torpedo
Basic Light Battery
Basic Medium Battery
Basic Heavy Battery
Turreted Secondary Battery
Transport Ship
Contact Mine
Minelaying Submarine

Gladiator (Gloster Gladiator) (Early Fighter)
Nimrod (Hawker Nimrod) (Carrier Fighter)
Swordfish (Fairey Swordfish) (NAV I)
Shark (Blackburn Shark) (Carrier Bomber I)
Wheatley (Armstrong Whitworth Wheatley) (Early Bomber)

Basic Fire Control System
Fuel Storage

Doctrine
Racial
Politics
[
]
National spirits
[
]

Haven of Ponykind

Stability: +10.00%
Surrender Limit: +10.00%
Ideology drift defense: +30.0%

---

Equestria has been inhabited by ponies for thousands of years. Ever since the three tribes fled the Windigoes from the north, they have called Equestria their home.


Alicorn Sisters

Daily Political Power Gain: +0.10
Division Recovery Rate: +5.0%
Stability: +10.00%
War Support: +10.00%

---

Equestria is blessed with the leadership of Princesses Celestia and Luna, guardians of the heavenly bodies. Graced by their millenia-old wisdom, the ponies feel safe and protected. They cannot imagine anyone else leading them.


Magic of Friendship

Division training time: +20.0%
Recruitable Population: -0.70%
Recruitable Population Factor: -5%
Division Recovery Rate: +5.0%
Stability: +5.00%
War Support: -30.00%
Military Factory construction speed: -30.00%

---

Friendship is the foundation of Equestria and makes cooperation between unicorns, pegasi and earth ponies possible. It has also ensured peace in the land for over a thousand years. Nopony has experienced war since time immemorial.


Stagnation of Harmony

Daily Political Power Gain: -0.85
Consumer Goods Factories: 30.0%
Military Leader Cost: +200.0%
Stability: +8.80%
War Support: -15.00%
Research Speed: -35.00%
Factory Output: -10.00%
Lend-lease tension limit: +50.0%
Send volunteers tension limit: +50.0%
Guarantee tension limit: +50.0%

---

For more than a thousand years, Princess Celestia has been ruling the lands of Equestria. Life is peaceful, slow and mostly uneventful. As such, the country is less open to radical changes.


The Forgotten Tribe

Daily Political Power Gain: -0.05
Recruitable Population Factor: -10%
Consumer Goods Factories: 2.0%
Stability: -5.00%
Division Defense on core Territory: -5.0%
Land Night Attack: -15.0%

---

Equestria is the land of the Three Tribes - Earth Ponies, Pegasi, and Unicorns. Yet there is a fourth tribe - the Thestrals (batponies). Living in the many mountains, caves and hidden places of Equestria, thestrals live largely separated from mainstream society, which is an ancient schism from the days of Nightmare Moon. Should war come, as unlikely as it is, the loyalty of the thestrals cannot be guaranteed.
Leaders
[
]
Leader
Party
Description
Traits

Princess Celestia




Harmony (Alicorn Rule)

---

Alicorn Rule

Born: Time Immemorial

Biography: Myths and fables tell of two regal sisters who ruled together, creating harmony for all the land. The eldest used her alicorn powers to raise the sun at dawn; the younger brought out the moon to begin the night. While it is obvious today that the tales speak of the Royal Pony Sisters who rule Equestria, few, if any concrete facts are known about their history. Their achievements in defeating Discord, King Sombra, Lord Tirek and other terrors have become legendary.

Princess Celestia's role in maintaining thousand years of peace after Nightmare Moon's banishment has been well documented. Responsible for raising the Sun, and until recently the Moon, she is perhaps the most beloved creature in the world, being a staunch proponent for peace, kindness and cooperation. With the recent return of Princess Luna to assist her in rulership, Princess Celestia continues to perpetuate the long, relative peace for all the ponies of Equestria.

Portrait By: Scroup

Princess of Ponies

Daily Political Power Gain: +0.20
Stability: +10.00%

Stout Defender

AI Modifier: Focus on Defense: +50.0%
AI Modifier: Focus on Peace: +10.0%

Starlight Glimmer




Communist (Equestrian Socialism)

---

PCP (Ponies Communist Party)

Chancellor Neighsay




Supremacy (Fascism)

---

HSR (Holy Sun Reign)

Neighsay is strict and conservative, preferring to do things by the EEA guidelines. He is also very prejudiced against anyone who is not a pony, openly referring to non-ponies as "creatures" in a dismissive manner.

Prince Blueblood




Non-Aligned (Despotism)

---

TTS (Three Tribes Supporters)

A well educated and accomplished general from the Equestrian military, Prince Blueblood rode his popularity as a hero of Equestria and his traditionally inherited power as a prince through the elections and into his new role as the executive of the nation. His tactics as a general were strict, disciplined, and conservative, not to mention highly effective, and he carries those methodologies into his administration. Though not necessarily the most humble politician, Blueblood knows how, when, and what to say what the public wants to hear, knows what the public wants, and has the intellect to carry out their will efficiently. Finally, his knowledge as a general gives his pragmatic administration great insight into the military and the defensive needs of the nation, essential in the torn and chaotic modern world.
Staff and Designers
[
]
Political Advisers
Name
Trait
Prereqs
Effect
Cost

 Princess Mi Amore Cadenza




Popular Figurehead

Current ruling party is Harmony.
Crystal Royal Family rescued
Any country with the same original tag as Crystal Empire:

Does not exist
Princess Mi Amore Cadenza is not the current country leader

Stability: +15.00%
Division Recovery Rate: +5.0%

---

Princess Mi Amore Cadenza, better known as Cadance, is another Alicorn Princess, though she began life as a Pegasus. After overcoming a jealous sorceress by opening her heart to her, Cadence was elevated into Alicornhood and joined Luna and Celestia in the Equestrian Royal Family as the Princess of Love. There she fell in love with a young Shining Armour, and married him. Unfortunately, their wedding was used by the Changeling Queen, Chrysalis, to overthrow the Royal Family and take over Equestria. With the power of their love, Shining Armour and Cadence managed to thwart the invasion and repelled the Changeling forces out of the country. After some time, Cadence was installed as the leader of the Crystal Empire and safekept it along with her husband. However now she has fled the country and taken refuge in her homeland of Equestria.

150

 Twilight Sparkle




Element of Magic

Current ruling party is Harmony.
Any country with the same original tag as Crystal Empire:

Does not exist
Princess Twilight Sparkle is not the current country leader

Political Power Gain: +15%
Stability: +5.00%
Magic Research Time: +10%
Research Speed: +5.00%

---

Princess Twilight Sparkle is an alicorn, the Element of Magic, and the Princess of Friendship. Despite all this, she remains humble and prefers to spend time with her friends and family, or reading books in her vast library of the Ponyville Castle. Her magical talent is extremely impressive, yet whenever she faced grave dangers and threats, it was friendship that saved her.

Her leadership and organization skills means she would do an excellent job at guiding the magical research department, and she is excited to take the job, even if it means she has to temporarily step down as the headmare of the School of Friendship.

150

 Coco Pommel




Captain of Industry
None

Infrastructure construction speed: +10.00%
Civilian Factory construction speed: +10.00%
Refinery construction speed: +10.00%

---

Coco Pommel began her career as a humble assistant and dressmaker, before being hired by Rarity to help her run her chain of boutiques. She has now worked at Manehattan's "Rarity For You" store for years and has grown quite skilled at managing a business. While she's too meek to admit it herself, her talent could be useful for Equestria as a whole.

150

 Flim and Flam




War Industrialists

Las Pegasus: Does not exist

AI Modifier: Focus on War Production: +10.0%
Military Factory construction speed: +10.00%
Dockyard construction speed: +10.00%
Fuel Silo construction speed: +10.00%

---

Well you've got opportunity
In this very community
He's Flim
He's Flam
We're the world famous Flim Flam Brothers
And our guns will blow your brains oooout!

150

 Raven Inkwell




Silent Workpony

One of the following must be true:

Princess Celestia is the current country leader
Princesses Celestia and Luna is the current country leader
Daybreaker is the current country leader

Political Power Gain: +15%

---

Raven Inkwell is Princess Celestia's personal assistant and helps her with administrative tasks and tedious paperwork, such as organizing celebrations and signing peace treaties. She is a reliable pony, but doesn't talk much and focuses on her duty.

150

 Prince Blueblood




Prince of Terror

Current ruling party is not Communist.
One of the following must be true:

Country is Solar Empire
Martial law has been instituted

Non-Core Ponypower: +2.00%
Foreign subversive activities efficiency: -30%
Damage to Garrisons: -25.00%

150

 Fancy Pants Advisor




Compassionate Grandee

Current ruling party is Harmony.
Fancy Pants is not the current country leader

Improve relations opinion: +15.00%
AI Modifier: Focus on Peace: +5.0%

---

Fancy Pants is an aristocrat and a member of Canterlot's upper class. He's regarded as the most important pony in the capital alongside the Princesses, and indeed wields considerable influence. The Princesses often entrust him with vital tasks, but he does not abuse his position and is a true gentlecolt, treating both the poor and the rich with equal politeness. It is rumoured he is in a romantic relationship with the famed supermodel Fleur de Lis, but he claims they are purely platonic friends.

150

 Filthy Rich Advisor




Smooth-Talking Charmer

Current ruling party is Harmony.
Filthy Rich is not the current country leader

Resources to Market: -5%
Trade deal opinion factor: +10.00%

---

A wealthy businesspony, Filthy Rich has a monopoly on selling the delicious zap-apple jam which is produced only in Ponyville. He owns many other smaller businesses as well and is always seeking to make new deals with new ponies. While typically capitalists like him are regarded as mean and greedy, Filthy Rich is an amicable and kind pony.

150

 Sweetie "Bon Bon" Drops




Agent of S.M.I.L.E.

Has created an Intelligence Agency
Current ruling party is Harmony.

Operative slots: +1
Own operative detection chance factor: -10%
Enemy operative detection chance factor: +10%
Agency upgrade time: -5.0%

---

Agent Sweetie Drops, whose undercover alias is Bon Bon, who recently rejoined the monster-hunting agency of S.M.I.L.E. The agency was originally dissolved when a bugbear managed to escape from Tartarus, but has now been re-established in these uncertain times. As before, Agent Drops is ready to do her duty in the name of Equestria.

200

 Dotted Line




Armaments Organiser

One of the following must be true:

Princess Celestia is the current country leader
Princesses Celestia and Luna is the current country leader
Daybreaker is the current country leader

Civilian to Military Factory conversion cost: -20.00%
AI Modifier: Focus on Military Equipment: +5.0%

150
Tank Designer
Name
Trait
Prereqs
Effect
Cost

 Mustang Developments




Mobile Tank Designer

Armor Research Speed: +12%
Armor:

Max Speed: +5%
Reliability: +10%

150

 Stallion Company




Medium Tank Designer
None

Armor Research Speed: +10%
Armor:

Reliability: +5%
Soft attack: +5%

150

 Sirius Metal Works




Heavy Tank Designer
None

Armor Research Speed: +10%
Armor:

Armor: +5%
Hard attack: +5%

150
Ship Designer
Name
Trait
Prereqs
Effect
Cost

 Baltimare Designs




Celestial Sea Fleet Designer

One of the following must be true:

Owns Baltimare
All of the following must be true:

 Equestria is a subject of another country.
Overlord:

Owns Baltimare
One of the following must be true:

Naval Research Speed: +10%
Carrier:
Capital Ship:

Armor: +10%
Heavy Attack: +10%

150

 Seaward Shoals Dockyard




Lunar Ocean Fleet Designer

One of the following must be true:

Owns Vanhoover
All of the following must be true:

 Equestria is a subject of another country.
Overlord:

Owns Vanhoover
One of the following must be true:

Naval Research Speed: +10%
Carrier:

Deck size: +25%
Armor: -15%
Max Range: +25%

Capital Ship: Max Range: +25%
Screen: Max Range: +25%
Submarine: Max Range: +25%

150

 Mustangia Shipyards




Escort Fleet Designer
None
150
Aircraft Designer
Name
Traits
Prereqs
Effect
Cost

 Wonderbolt Aircraft Research




Light Aircraft Designer
None

Air Research Speed: +10%
Fighter:

Agility: +10%
Max Speed: +10%

Carrier Fighter:

Agility: +10%
Max Speed: +10%

150

 Cloudsdale Airtech




Medium Aircraft Designer
None

Air Research Speed: +10%
Heavy Fighter: Reliability: +20%
Tactical Bomber: Reliability: +20%
Scout Planes: Reliability: +20%

150

 "Northern" Development Bureau




Heavy Aircraft Designer
None

Air Research Speed: +10%
Strategic Bomber: Strategic Bombing: +10%

150

 Ultramarine




Naval Aircraft Designer
None

Air Research Speed: +10%
Naval Bomber:

Range: +10%
Naval Attack: +10%

CV Naval Bomber:

Range: +10%
Naval Attack: +10%

Carrier Fighter:

Range: +10%
Agility: +10%

Carrier CAS:

Range: +10%
Naval Attack: +10%

150

 Stratus Company




CAS Designer
None

Air Research Speed: +10%
Close Air Support:

Ground Attack: +10%
Reliability: +10%

Carrier CAS:

Ground Attack: +10%
Reliability: +10%

150
Materiel Designer
Name
Trait
Prereqs
Effect
Cost

 Star Energy




Artillery Designer
None

Artillery Research Speed: +10%

150

 Macintosh Factory




Infantry Equipment Designer
None

Weapons and Equipment Research Speed: +10%

150

 Fillydelphia Motors




Motorized Equipment Designer
None

Motorization Research Speed: +10%
Motorized Rocket Artillery Research Speed: +50%

150
Industrial Concern
| Name | Trait | Prereqs | Effect | Cost |
| --- | --- | --- | --- | --- |
|  Cloudsdale Weather Factory | Industrial Concern | None | Industrial Research Speed: +10% | 150 |
|  Manehattan Science Institute | Electronics Concern | None | Electronics Research Speed: +10% | 150 |
Theorist
Name
Trait
Prereqs
Effect
Cost

 Granny Smith




Military Theorist

Has completed focus Urgent War Committee
Current ruling party is Harmony.

Army Experience Gain: +0.05 daily
Land Doctrine Research Speed: +7%

---

Granny Smith is the oldest living member of the vast Apple family. She has lived in Ponyville her entire life and is the grandmother of Applejack, the Element of Honesty. She is cranky, but no one can deny her wisdom that old age has given her. Living near the Everfree Forest has made her learn many tricks about how to deal with timberwolves and other monsters, and she believes those tricks could be used in conventional warfare as well.

150

 Spitfire




Air Warfare Theorist

Has completed focus Urgent War Committee
Current ruling party is Harmony.

Air Experience Gain: +0.05 daily
Air Doctrine Research Speed: +15%

---

Spitfire is the captain of the Wonderbolts, a famous group of flight experts. She has a fierce, dominant temper and ensures cadet ponies under her command master the art of flying. Her own talent is almost unsurpassed, and she has many ideas about improving our doctrine of aerial warfare.

150

 Fluttershy




Nuclear Scientist

Has completed focus Equestrian Weapon of Mass Destruction
Current ruling party is Harmony.

Nuclear Research Time: +10%

---

Fluttershy is the Element of Kindness and a caretaker of animals. She is known for her shyness, but also her beauty and hidden assertiveness that is revealed whenever her friends are threatened. Now she is interested in heading a research department for developing healing megaspells, though some scientists in the group are curious about the more... aggressive implementation of such magic.

150

 Flocke Von Schnee




Rocket Scientist

Has completed focus New High Command

Rocket Research Speed: +10%

150
Chief of Army
Name
Trait
Prereqs
Effect
Cost

 Rockhoof




Entrenchment (Genius)

Has completed focus New High Command

Entrenchment speed: +12.0%

---

A Pillar of Old Equestria who recently returned from Limbo, Rockhoof is a stout warrior and a former member of the Mighty Helm, an elite unit of guards from his ancient home village. He wields nothing more than a shovel, but is a master at using it to dig trenches. While he had trouble adapting to modern society, he was given the title Keeper of Tales by Princess Twilight. Now that war is on our doorstep, perhaps we can give him a more serious duty to fulfill.

150

 Grimhoof




Army Offense (Specialist)

Has completed focus New High Command

Division Attack: +5.0%
AI Modifier: Focus on Offense: +15.0%

---

Grimhoof is a high-ranking member of the Cloudsdale Royal Legion. As a determined warrior, he advocates relentless and decisive attacks to crush the resistance of the enemy.

150

 Copper Top




Army Maneuver (Expert)

Has completed focus New High Command

150

 Flash Magnus




Army Drill (Expert)

Has completed focus New High Command

Division training time: -10.0%

---

Flash Magnus is a legendary member of the Cloudsdale Royal Legion and a Pillar of Old Equestria who only recently returned from Limbo. He wields the fire-proof shield Netitus and is an expert in dealing with dragons. Currently he is the drill sergeant of the Canterlot Royal Guard, but there is no reason why his responsibilities couldn't be expanded further.

150
Chief of Navy
Name
Trait
Prereqs
Effect
Cost

 Cynosura




Decisive Battle (Expert)

Has completed focus New High Command

Capital Ship Attack: +10.00%
Capital Ship Armor: +10.00%
Screen Attack: +10.00%
Screen Defense: +10.00%

150

 Morning Storm




Naval Aviation (Expert)

Has completed focus New High Command

Naval Air Attacks from Carriers: +6.00%
Naval Air Targeting from Carriers: +7.00%
Naval Air Agility from Carriers: +8.00%
AI Modifier: Focus on Naval Air: +15.0%

150
Chief of Air Force
Name
Trait
Prereqs
Effect
Cost

 Rainbow Dash




Element of Loyalty

Has completed focus New High Command
Current ruling party is Harmony.

Air Experience Gain: +0.07 daily
Foreign subversive activities efficiency: -15%
Air Superiority: +15.00%

---

Rainbow Dash is the Element of Loyalty and a full member of the Wonderbolts, a team of flight experts. She has been called the best flier in all of Equestria and her large ego is only inflated further by this. She is brash, competitive and very talented, being the only pegasus capable of creating a Sonic Rainboom. However it is rumoured she has some confidence issues which she hides from others.

150

 Kitty Hawk




Air Reformer (Specialist)

Has completed focus New High Command

Air Experience Gain: +5.0%
AI Modifier: Focus on Aviation: +10.0%

150
Military High Command
Name
Trait
Prereqs
Effect
Cost

 Maud Pie




Army Defense (Expert)

Has completed focus New High Command
Current ruling party is Harmony.

Division Defense: +10.0%
AI Modifier: Focus on Defense: +15.0%

---

Maud Pie, full name Maudileena Daisy Pie, is Pinkie Pie's elder sibling. Several years ago she earned a rocktorate in rock science and is an unparalleled expert on rocks. She never shows her emotions and has a dry, monotone demeanour, yet is protective of her family. Her knowledge on rocks means she knows very well how to use terrain to our advantage.

 Limestone Pie




Infantry (Specialist)

Has completed focus New High Command

Infantry Division Attack: +5.0%
Infantry Division Defense: +10.0%

---

A member of the Pie family, Limestone is Pinkie Pie's older sister. She has an angry, commanding persona, but is also very protective of her younger siblings. Now that war has come, she has joined the army to defend her home and family and quickly climbed through the ranks.

150

 Zecora




Armor (Expert)

Has completed focus New High Command
Current ruling party is Harmony.

Armor Division Attack: +10.0%
Armor Division Defense: +10.0%

---

Little is known about Zecora. She is the sole inhabitant of the monster-filled Everfree Forest and is a skilled brewer of potions who speaks solely in rhymes. She lives as a hermit, keeping to her zebra traditions. But now that war threatens Equestria, she is willing to step forth and aid the ponies who have accepted her. It seems she knows much about the rapid warfare tactics used by her kind in Zebrica, and can teach much to our mobile units.

150

 Rarity




Uniform Designer

Current ruling party is Harmony.

Winter Attrition: -10.0%
Heat Attrition: -5.00%
Division Recovery Rate: +5.0%

---

Rarity is the Element of Generosity. She owns a chain of fashion boutiques and is a well-known entrepreneur and clothing designer. While she lives in rural Ponyville, she admires the urban elite of Canterlot and emulates them whenever possible, but never forgets her roots. It's well known that she happily gives out her expensive dresses for free, and is indeed happy to work for the greater good of Equestria if necessary.

150

 Wonderbolt Academy




Air Combat Academy

Has completed focus New High Command
Current ruling party is Harmony.

Ace generation chance: +15.00%

150

 Thunderbolt Sentinel




Army Regrouping (Specialist)

Has completed focus New Generals
Has unit leader: Thunderbolt Sentinel

Division Recovery Rate: +4.0%

---

One of Equestria's foremost experts on trenches, Thunderbolt Sentinel knows how to hold the line.

150

 Fizzlepop Berrytwist




Army Maneuver (Specialist)

Has completed focus New Generals
Current ruling party is Harmony.
Has unit leader: Fizzlepop Berrytwist

---

Formerly known as Tempest Shadow, Fizzlepop Berrytwist was the second-in-command of the Storm King himself. In her youth she was a regular unicorn filly and dreamt of enrolling in Princess Celestia's School for Gifted Unicorns, but then an ursa minor attacked her and broke her horn. Without her magic, her friends soon abandoned her and joined the School for Gifted Unicorns. Bitter and lonely, Fizzlepop left her homeland to Zebrica, where she eventually stumbled into the Storm King. Having tricked his soldiers and impressed him with his combative personality, the Storm King offered her the vacant position of second-in-command. She accepted and in return the Storm King promised to restore her horn once he had gained enough magical power to do so.

While Storm King was preparing his ambitious invasion of Equestria, Fizzlepop managed to capture Princess Twilight Sparkle while she was on Mount Aris. However, when she presented her bounty to Storm King, he still refused to restore her horn, which enraged Tempest. After a brief fight between the two, Twilight intervened and saved Tempest's life, and she in turn joined with her and ultimately defeated the Storm King, turning him to stone with his own magical artifact.

Now she has returned to Equestria and embraced her former name, travelling the land and aiding fellow ponies. Her military experience is great and she is more than happy to aid us.

150
Military Leaders
[
]
Army Commanders
Name
Traits
Skills
Race

Field Marshal
Prince Blueblood




Inflexible Strategist


Skilled but stubborn. A good enough plan can survive contact with the enemy.

Defense: +1
Logistics: +1

Media Personality
This general will go out of his way to talk to the media and will always try to be in the limelight.

Army reassignment duration: +100.0%

Politically Connected
This leader has political connections which has smoothed the way for his career. Perhaps too quickly.

Leader Experience Gain: -10.0%
Promotion Cost: -50.0%

Prince of Equestria
The Princes' attend the high class military academy in Canterlot, where they are trained to command armies in battle.

Supply Consumption: -5.0%
Division Recovery Rate: +3.0%
Max planning: +5.0%

---

Prince Blueblood is a distant nephew of Princess Celestia and thus belongs to the royal family. He is widely known to be an arrogant and lazy snob, which is why it was a great surprise when he volunteered to join the officer corps of the Equestrian Army. No one knows his exact motivation, but he is already proving to be surprisingly competent, if a bit harsh.

Lv. 2

: 1
: 2
: 2
: 3

General
Fast Clip




Career Officer


Dedicated to the life as an officer, with ambitions to match.

Engineer
Adept in the arts of crossing rivers and constructing field fortifications.

---

Fast Clip is a member of the Wonderbolts and acts as a drill instructor, training cadets for the Wonderbolts Academy. Spitfire, the captain of the Wonderbolts, relies on Fast Clip to keep the training right on schedule and ensure training days run smoothly and efficiently.

Lv. 2

: 1
: 1
: 2
: 3

General
Soarin




Media Personality


This general will go out of his way to talk to the media and will always try to be in the limelight.

Army reassignment duration: +100.0%

Air Force Commander
Either a former pilot or an air force officer relegated to army command, this general uses their experience to better coordinate joint air and land operations.

Air Superiority: +5.00%
Ground support: +3.00%

---

Soarin is the second-in-command of the Wonderbolts, a team of expert pegasus fliers. He usually aids Spitfire, the leader of the Wonderbolts, in her duty and acts as her replacement when needed. While he isn't afraid of hard work or great dangers, he does love to rest, take it easy and enjoy some delicious apple pie.

Lv. 3

: 2
: 3
: 1
: 2

General
Whiplash




Old Guard


While not the most brilliant officer, he is unlikely to cause trouble.

Max Entrenchment: +1.0
Leader Experience Gain: -25.0%

Career Officer
Dedicated to the life as an officer, with ambitions to match.

---

Alongside Fast Clip, Whiplash is a drill instructor of the Wonderbolts. Whiplash is one of the toughest instructors at the Wonderbolts Academy. He tests ponies backward and forward. There's no extra credit in Whiplash's world. Despite being a pony of few words, his image as a hoof-buster is mostly a legend. When he isn't putting cadets in their places, he's just a big softie.

Lv. 2

: 1
: 2
: 2
: 2
Naval Commanders
Name
Traits
Skills
Race

Admiral
Copper Gearheart Cog




None

Lv. 2

: 2
: 1
: 2
: 2

Admiral
Cynosura




None

Lv. 2

: 1
: 3
: 2
: 1

Admiral
Dust Hoover




Media Personality


This Admiral has a knack for giving the right quote to the right person.

Attack when in combat alogside the Pride of the Fleet: +10.00%
Defense when in combat alogside the Pride of the Fleet: +10.00%

Lv. 2

: 1
: 2
: 2
: 2

Admiral
Evening Squall




Nightmare of Solomon


After almost single-hoofedly turning around a naval battle in the middle of the night against a much larger enemy force Evening Squall was first given the nickname "Nightmare of Solomon" by enemy forces but it was soon adopted by Equestrian naval personnel. Ever since she has a reputation of being second to none when it comes to naval warfare, especially at night.

Naval Hit Chance: +15%
Torpedo screen penetration: +15.00%

Lv. 3

: 3
: 2
: 2
: 3

Admiral
Madoor Stronghammer




Sea and Sky


He believes that the best way to hold the sea is by controlling the air.

Sortie efficiency: +10%
Naval Air Attacks from Carriers: +10.00%
Naval Air Agility from Carriers: +10.00%

Lv. 2

: 2
: 2
: 3
: 3
Economy
[
]
Laws and Development
[
]
Laws and Development
Conscription Law
Trade Law
Economy Law
Volunteer Only

---

Recruitable Population: 1.50%

Export Focus

---

Construction Speed: +10.00%
Research Speed: +5.00%
Factory Output: +10.00%
Dockyard Output: +10.00%
Resources to Market: +50%
Civilian intelligence to others: +20.0%
Navy intelligence to others: +10.0%

Civilian Economy

---

Industrial Research Speed: +3%
Electronics Research Speed: +2%
Consumer Goods Factories: 35.0%
Military to Civilian Factory conversion cost: +30.00%
Civilian to Military Factory conversion cost: +30.00%
Fuel Gain per Oil: -40.00%
Fuel Capacity: -25.00%
Infrastructure construction speed: +10.00%
Military Factory construction speed: -30.00%
Civilian Factory construction speed: -30.00%
Refinery construction speed: +5.00%

Scientific Development
Society Development
Illiteracy
Developed Science Base

---

Modern Society

---

Negligible Illiteracy

---

Poverty
Race
Negligible Poverty

---

Pony

---
Industry and Resources
[
]
Factories

| | | |
| --- | --- | --- |
| 22 Military Factories | 18 Naval Dockyards | 52 Civilian Factories |
Resources*

| | | | | | | |
| --- | --- | --- | --- | --- | --- | --- |
| Oil | Aluminum | Rubber | Tungsten | Steel | Chromium | Crystal |
| 79 | 18 | 117 | 40 | 295 | 82 | 46 |