Jurassic World: Dominion Dominates Fandom Wikis - The Loop
Play Sound
World Map
[
]
Countries with Unique Focus Trees
[
]
Majors
[
]
Minors
[
]
Formables / Breakaways
[
]
List of Countries
[
]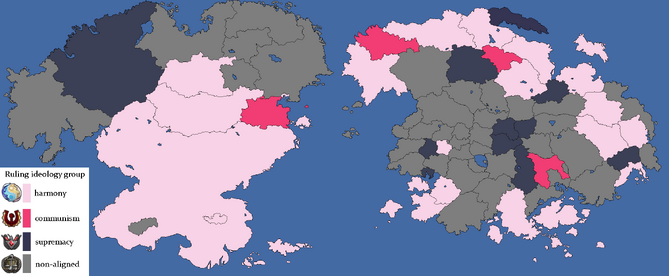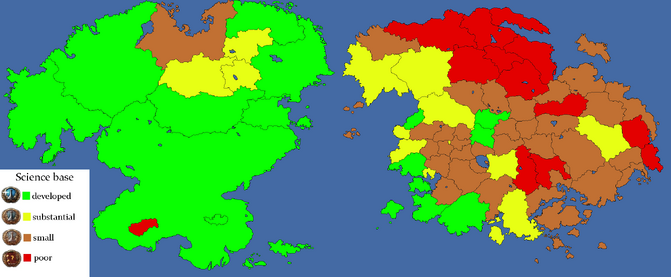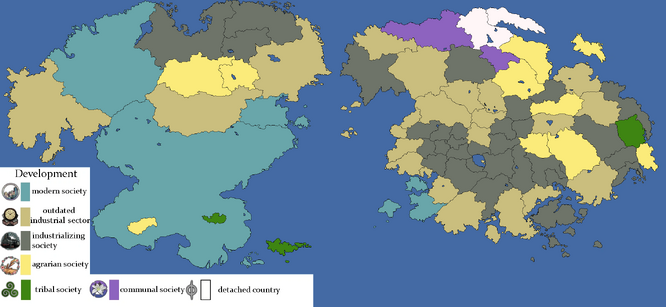 Country

Tag









































Notes


01

 Arcturian Order
HLR
9
2
3.60
0.054
46
27
7
0
7
0
10
0
19
30
12
0

52

 Republic of Asterion
MIT
16
3
6.18
0.154
132
39
3
3
9
0
42
64
17
27
0
0

50

 Bakaran Republic
BAK
4
3
3.65
0.054
47
16
2
4
5
18
15
0
0
7
5
0
River Coalition Faction

02

 Barony of Angriver
ANG
3
3
2.02
0.026
44
11
3
0
3
0
0
0
0
18
8
0
Vassal of  Griffonian Empire

03

 Barony of Arantiga
ARA
1
2
0.82
0.024
17
5
1
0
2
0
0
0
0
13
9
0
Karthinian Pact Faction

03

 Barrad Magocracy
BAR
3
2
0.64
0.032
26
8
2
0
2
0
0
0
0
9
11
25

04

 Blackrock's Bandits
BAN
5
3
1.13
0.062
33
9
1
0
2
0
0
0
16
16
0
21

05

 Buffalo Chiefdom
BUF
2
2
0.39
0.005
5
4
1
0
1
18
0
0
0
3
0
0

06

 Barony of Pridea
JFT
1
3
1.84
0.028
30
8
2
3
2
0
0
0
0
0
0
0
Vassal of  Kingdom of Aquileia

07

 Barony of Rumare
LAK
1
2
0.14
0.006
5
4
1
0
1
0
0
0
0
0
0
0

08

 County of Adelart
HEL
2
3
1.10
0.016
28
6
1
0
2
22
0
0
0
0
0
0

09

 County of Bronzehill
BRZ
5
3
2.43
0.034
55
19
3
0
5
0
0
0
23
31
23
104
Vassal of  Griffonian Empire

10

 County of Cyanolisia
CYA
4
3
2.60
0.028
84
13
1
1
5
0
7
0
6
8
0
0

11

 Crystal Empire
CRY
26
3
12.62
0.151
145
65
2
0
9
21
9
0
69
87
6
217
Puppet of  Equestria

12

 County of Francistria
FRN
7
2
2.25
0.035
59
20
2
0
4
6
0
0
0
11
26
0
Karthinian Pact Faction

13

 City of Flowena
FLO
1
3
1.05
0.016
20
6
1
0
4
0
0
0
0
7
0
0

14

 County of Greifwald
AET
4
3
2.08
0.023
33
13
2
0
4
0
0
0
11
12
0
0

15

 Changeling Lands
CHN
33
3
36.88
0.294
243
102
14
10
21
52
12
1
22
31
0
25

16

 County of Longsword
LNS
3
3
2.08
0.014
39
9
2
0
3
0
0
0
0
10
0
0

50

 Deponya
DEP
4
2
2.39
0.036
24
10
1
0
1
5
0
0
0
0
0
4
River Coalition Faction

50

 Diamond Mountain
DMT
4
2
3.82
0.107
35
16
3
1
4
0
0
0
25
58
25
171
River Coalition Faction

17

 Greifenmarschen
PYT
3
3
2.18
0.054
31
9
2
0
3
5
0
0
4
8
0
0
Vassal of  Griffonian Empire

18

 Dread League
DED
6
1
1.68
0.420
7
11
2
0
2
0
0
0
7
13
0
6

19

 Duchy of Rila
JEB
5
3
3.47
0.052
6
19
4
1
7
0
9
0
6
26
0
0
Vassal of  Kingdom of Aquileia

20

 United Dragon Isles
DRG
7
2
0.26
0.026
18
6
1
1
1
10
0
0
0
2
0
2

21

 Duchy of Talouse
TAL
4
2
2.47
0.037
48
14
2
1
3
0
39
0
0
13
0
0
Karthinian Pact Faction

22

 Duchy of Vinovia
VIN
2
3
1.29
0.019
30
7
1
0
3
0
0
0
0
21
21
0
Vassal of  Kingdom of Aquileia

23

 Yale Rectorate
YAL
4
3
2.75
0.035
46
14
3
0
5
0
17
0
9
26
0
0
Vassal of  Griffonian Empire

24a

 Equestria
EQS
170
3
50.15
0.301
946
376
22
18
52
79
18
117
40
295
81
38

24b

 Falcorian Queendom
FAL
8
3
3.70
0.055
64
22
2
1
5
0
18
11
6
21
0
0

25a

 Farbrook
FBK
6
3
1.94
0.025
46
16
1
1
3
0
0
0
5
13
3
0

25b

 Federated Parishes of Sicameon
SIC
11
3
4.52
0.149
111
32
3
6
8
2
0
19
27
41
0
89

25c

 Firtree Villages
FIR
7
1
1.91
0.017
40
15
1
0
2
0
7
0
9
7
0
0

25d

 Free City of Romau
ROU
1
3
2.23
0.024
5
10
2
0
4
0
0
0
0
13
0
0
Vassal of  Griffonian Empire

25e

 Free Towns of Gryphus
GRU
9
3
3.21
0.045
83
23
3
2
5
0
25
23
12
18
0
0

29

 Greneclyf
NCH
3
2
3.20
0.048
33
12
1
2
3
9
0
0
0
8
0
0

30

 Griffon Liberation Army
GRW
5
2
1.58
0.034
29
10
1
0
2
16
0
0
3
8
0
0

31

 Griffonian Empire
GRI
5
3
6.07
0.091
66
24
8
0
9
0
0
0
15
23
5
0

32

 Grand Duchy of Feathisia
FEA
9
3
5.27
0.079
124
30
4
2
7
9
0
0
13
14
11
0
Vassal of  Griffonian Empire

33

 Griffon Frontier
GFF
4
2
1.72
0.000
30
9
1
0
1
0
0
0
0
0
0
47
Puppet of  Nova Griffonia

34

 Gryphian Host
GRY
10
3
3.10
0.090
78
22
4
0
6
7
0
0
0
10
0
0

35

 Griffonian Republic
FAT
11
3
4.77
0.090
99
33
6
2
9
0
0
0
2
12
4
10

37

 Haukland
HAU
3
2
0.66
0.010
21
9
1
1
3
0
0
0
0
0
0
0

38

 House Avian
AVI
1
3
0.72
0.010
17
4
1
0
1
0
0
0
0
0
0
0

39

 House Erie
ERI
3
3
1.47
0.028
29
9
2
0
3
0
0
0
0
6
0
0

40

 House Eyrie
EYR
2
3
1.88
0.011
39
10
2
0
4
0
0
0
0
11
0
0

50

 Lake City
LCT
6
3
6.51
0.097
97
24
4
0
7
0
0
0
0
14
0
0
River Coalition Faction

41

 Jaki-Clan
JAK
7
2
3.19
0.047
45
17
1
0
2
0
2
0
0
2
0
2

42

 Kingdom of Aquileia
JER
5
3
5.04
0.045
71
23
4
2
8
0
42
0
15
24
0
0

43

 Kingdom of Brodfeld
BRF
4
3
2.57
0.056
67
17
3
1
5
0
0
0
0
12
0
0

44

 Kingdom of Griffonstone
BOI
6
3
3.32
0.020
55
19
2
0
5
0
0
0
6
23
5
23

45

 Ordensstaat Hellquill
HLQ
4
3
2.44
0.023
36
11
2
0
5
0
0
0
0
14
0
0

46

 Kingdom of Olenia
OLE
48
3
10.54
0.158
221
85
7
8
13
59
57
0
76
87
62
28

47

 Kingdom of Pingland
PNG
5
2
2.67
0.040
31
14
1
2
3
15
0
0
0
0
0
0

48

 Katerin Principality
KAT
3
3
2.06
0.031
49
13
2
0
4
0
0
0
0
11
0
0
Vassal of  Griffonian Empire

49

 Kingdom of Vedina
VED
11
2
4.85
0.058
73
25
4
3
6
20
0
0
6
32
0
5

50

 Kingdom of Wingbardy
WNG
10
3
9.89
0.148
174
42
8
4
17
35
28
50
8
57
3
0
Karthinian Pact Faction

50

 Kingdom of Wittenland
WIT
7
3
4.79
0.071
61
19
3
0
5
0
6
0
7
16
0
12
River Coalition Faction

51

 Kingdom of Yakyakistan
YAK
13
3
5.84
0.087
73
24
2
0
3
0
8
0
0
16
0
17

53

 Marquisate of Westkeep
JRR
2
3
0.93
0.013
18
6
1
0
3
0
17
0
4
25
0
0
Vassal of  Kingdom of Aquileia

54

 New Mareland
EQC
14
3
6.20
0.068
98
41
4
3
8
46
98
0
14
41
0
57
Dominion of  Equestria

50

 Nimbusia
NIM
4
3
4.28
0.107
73
17
4
2
5
0
20
0
0
16
0
0
River Coalition Faction

55

 Nova Griffonia
GRF
22
3
8.11
0.202
129
49
6
6
9
15
15
0
13
20
4
10

56

 Northern Tribes
NTR
7
1
2.59
0.038
59
19
2
1
2
0
0
0
0
4
0
6

57

 Austurland
OLV
2
2
1.25
0.031
23
7
2
1
2
0
0
0
0
14
0
17

58

 Kása Free State
ZES
4
3
1.17
0.026
30
12
2
1
2
0
0
0
0
10
0
0

59

 Pomovarra
POM
2
3
0.98
0.014
25
6
1
0
2
0
0
0
0
11
0
0

50

 Pònaidhean
FRE
4
2
2.25
0.053
10
8
1
0
1
0
2
0
0
0
0
2
River Coalition Faction

60

 Polar Bear Communities
PLB
7
1
3.18
0.047
15
11
1
1
2
0
0
0
4
10
0
0

61

 Principality of Lushi
LUS
5
2
1.88
0.028
40
15
3
0
3
0
0
0
1
7
0
1

50

 River Republic
RCT
5
3
6.04
0.090
75
22
4
0
8
0
6
0
3
16
13
0
River Coalition Faction

63

 Stalliongrad
STG
16
3
8.52
0.102
154
56
11
7
13
16
35
0
16
93
0
22

64

 Sunstriker Clan
MNC
4
2
1.02
0.045
25
9
1
0
2
0
27
0
5
24
10
42
Vassal of  Griffonian Empire

65

 Strawberry Duchy
STW
5
3
3.25
0.048
57
17
3
0
6
8
0
0
0
29
21
0
Vassal of  Griffonian Empire

66

 Skyfall Trade Federation
TRD
4
3
7.45
0.89
78
25
6
7
9
0
0
0
29
78
11
0

67

 Socialist Republic of Skynavia
SRS
5
3
1.30
0.010
61
12
1
0
2
0
27
0
0
14
0
14

68

 Our Town
STL
1
2
0.28
0.004
15
5
1
0
2
0
0
0
13
5
0
8

69

 Township of Fezera
FEZ
1
3
1.43
0.021
27
6
2
1
3
0
0
0
0
12
0
0

70

 Watertowns
WAT
4
1
0.80
0.012
15
8
0
0
1
0
0
0
0
0
0
0
Note: A tag is a three-letter code for a country that doesn't vary with localization or with changes in ideology. These are usually used for either development purposes...or the occasional console command.
Note: Any countries created after the gamestart in a civil war that was not done by a focus tree or a number of events will be given a tag D## (with the ## ascending based on the number of new nations already created).
Note: All resource values are the amounts extracted INCLUDING effects of negative Industrial Ideas (agrarian society, etc) and National Spirits.